The boys over at the Corner have made themselves nice, dimmed the lights, gotten out the lotion and the scented candle, and have settled in for a quiet night giving Vice-President Paul Ryan the tongue bath of his life.
To be sure, each of Romney's finalists or near-finalists has merit. But Ryan would benefit Romney's candidacy in unique ways. Here are just a few:

* Picking Ryan would excite and unite the party.
* By putting Ryan on the ticket, Romney would add the party's single best spokesman on three huge issues: Obamacare, the budget, and the debt. Imagine Ryan debating Joe Biden — or Hillary Clinton.
* By adding such a heavyweight to the ticket, Romney would convey to the electorate how high the stakes are in this historic election.
* The pick would also show strength. By making it, Romney would (rightly) indicate that he's not afraid of being overshadowed by anyone.

The 23-year age difference between Romney and Ryan makes them seem more like natural complements than like rivals, and by all accounts the chemistry between them is excellent. Moreover, younger voters are increasingly disillusioned with Obama, and putting the 42-year-old Ryan on the ticket would encourage many of them to give Romney a second look.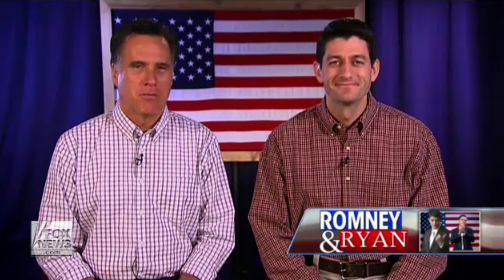 Because the only thing that would excite the young peoples more than one smug lying merchant wanker with helmet hair is two of the fuckers sitting there, looking like an outtake from the Chuckles and Bozo Variety Hour.*
For Romney's purposes, Ryan's home state is perhaps even more strategic than Portman's. Polls bob up and down, but in the end, Ohio leans Republican, and Romney should be able to win it, whereas Wisconsin is on Obama's side of the ledger and, aside perhaps from Nevada, is the most vulnerable of the Democratic-leaning states. It's quite plausible that Ryan could make the difference in Wisconsin — and hence in the election. If Romney wins Wisconsin, then Obama would almost certainly have to win Florida or Ohio or else sweep Virginia and Colorado.
Frankly, we all know it's bullshit to think that (barring the Mittpocalypse) Romney could win a state in which EBR** shows Obama consistently outpolling him by 6 to 8%, but those are the sort of things you say when you're trying to get a Congressman onto the couch and out of his pants.
Later in his post, Jeffrey H. Anderson quotes Paul A. Rahe (a sour-faced, pinched old thing who thinks that the Catholic church lost its moral authority when bishops, priests and nuns didn't scream bloody murder and declare war in 1973 to overturn Roe v Wade). Paul A. may be a good Christian, but he has a serious hard on for the hunky Congressman from America's Dairyland.
I could reel off the names of various Congressmen – stretching from Carl Albert to Nancy Pelosi – who have played a prominent role in my lifetime. None of them could be called a statesman. They were competent, clever partisan politicians. Ryan is something different. He has attained a stature that no Congressman in my lifetime has achieved. When I cast my mind back in the past in search of comparable figures, I can come up with only two – James Madison in the First Federal Congress, and Henry Clay, when he was Speaker of the House. There were no doubt others, but the list is not long, and I doubt whether there would be anyone on it who served in the last hundred years.
That, ladies and gentlemen, is exemplary tonguework. If you are ever going to get in there and give a politician a damn good arse licking, then this should be your template.
Not examplary, but still giving it a gold old go at getting into all the crevices and ticking the outside just like he likes it, is Michael Walsh, who is clearly stuck in the middle of a little sticky pond of man-crush.
Re: Jeffrey Anderson's piece on the home page, I second the motion. I had a chance to see Ryan in person at a recent event and came away even more impressed with him than I had been, and that is saying a lot. He's taller than you think he's going to be (which is a good thing in a candidate), and even more quick-witted and, yes, funny. Compared to the colorless police-lineup guys whose names are being mentioned (Portman, Pawlenty), Ryan stands out.
He's so tall, and soooooo funny, and have you seen his eyes? So dishy, so blue, like limpid pools.
Further, having been one of the lone voices of fiscal sanity in Congress, he brings proven leadership to the ticket, and he's shown real political guts while out on the point. Romney's been making the economy the focus of his campaign so far, but Ryan on the ticket would free him to take on the larger issues, i.e., precisely why the economy is so bad. And that takes him right to the philosophical heart of Obamaism and all its attendant ills, which is where the larger battle needs to be fought and won.

The argument's been made Ryan's needed in the House in his role of budget master, but that's like a baseball executive's saying he needs to keep that young phenom who's destroying triple-A pitching down on the farm because the Mud Hens have a chance to win it all this year.
What is it about wingnuts and baseball metaphors? I suspect it's because they are afraid that the captain of the school football team won't speak to them if he thinks they aren't manly men who know about sport, and then they might miss out on six years of futile yearning and a single drunken and guilt-ridden fumble behind the bleachers after the prom. Who knows? Maybe I'm projecting.
Jeffrey's piece catalogs all the strengths Ryan would bring to the ticket, including bringing his home state of Wisconsin with him as an Electoral College dowry. But let me add a couple more.

The first is that he speaks in the cadences of a younger America; he's like a Quentin Tarantino character come to life, minus the profanity. Obama's manufactured persona extends down to his mannered way of speaking, with the dropped "g's" and the use of the word "folks," but Ryan's hip, rapid-fire staccato is the real thing.
Paul Ryan speaks and looks like this:
He does not remind me so much of some butch, gun toting Tarantino hero, as the love child of this man:
and this man:
Sexy. Mmmmmmmmm.
Second — the deal clincher — is that Ryan is not afraid of Obama. Born in 1970, Ryan's not dragging around any sixties baggage or angst or animus; he came of age during the Reagan administration and radiates some of the Gipper's Sunny Jim optimism. Plus, he's already shown he can take a punch from the president, who clearly fears him:

[For our collective sanity, I'm omitting the Morning Joe video that Walsh links to here. All you need to know is, like, that Obama gave Congressman Ryan evils and so Joe thinks Obama is a dick because being rude is so not cool and shit.]

Who wouldn't watch to see a rematch? Especially one in which Ryan gets to fight, too.
Fight out behind the gym. 5pm tomorrow. Winner gets a blowjob from Michael Walsh.
* Tonight – hijinks ensure when Willard and Pauly get caught snaffling apples from Mean Ol' Barney Frank's orchard, while Buster the Horse leaves a funny surprise for Mrs Ann in the back garden.
** Everyone but Rasmussen
ETA:
Violet Says:

My goodness. They're seeing starbursts. Is Ryan the male Palin? The Malin?
[Crossposted over
here
.]