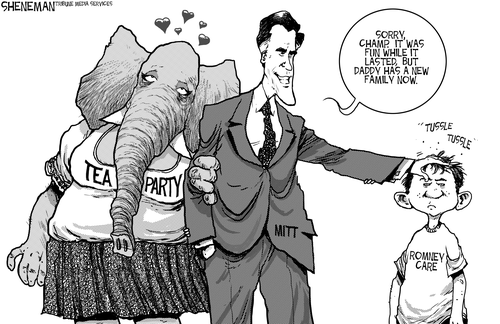 (Drew Sheneman via GoComics.com)
__
Speaking of walking away from those boring old responsibilities, I don't think we've yet paid proper attention to Republican Thaddeus McCotter's recent GBCW dramatics. As reported by Ben Jacobs at the Washington Monthly:
Thaddeus McCotter, a five-term Michigan Republican with a personality as idiosyncratic as his first name, resigned from Congress yesterday. Of course, he did so on Facebook. By political standards, this was the most normal thing about his resignation.

McCotter was a quirky but relatively successful Congressman from the Republican suburbs of Detroit. Then, last year, he decided to run for President. His campaign lasted for 11 weeks. After being shut out of debates and receiving only 35 votes in the Ames Straw Poll, McCotter decided to call it quits. Although his presidential campaign had been a total failure, it didn't seem likely to damage him too badly. After all, McCotter had a relatively safe seat in Congress to return to—-not to mention all of the advantages of incumbency.

But this turned out not to be the case. McCotter managed to become the first incumbent in modern history to fail to submit the necessary petition signatures for re-election and thus not qualify for the ballot. In fact, his campaign submitted 2000 signatures to the Michigan Secretary of State, only 1000 of them needed to be valid. Instead, just 244 made the cut. Apparently, many of the signatures submitted were simply xeroxed copies of each other. The result was a political trainwreck. After some initial bluster, McCotter eventually decided against trying to mount a longshot write-in campaign for his seat. But then, things got really weird…
"Idiosyncratic", it's the new "borderline certifiable"! Cynic Dave Weigel at Slate takes a more acidic angle as "Thaddeus McCotter Resigns, and a Nation Enters a Lengthy Period of Mourning and Reflection":
After he managed to hire a charlatan to collect his ballot petition signatures, after he was forced to run as a write-in candidate for his seat, Rep. Thaddeus McCotter, R-Mich., talked to Alex Pappas. [warning: Daily Caller link]

NBC's Chuck Todd on Tuesday asked on Twitter, "Will McCotter join Bob Dornan who allowed longshot presidential ambitions cost him a house seat months later?"

Asked to respond, McCotter said, "Chuck Todd is an idiot then. Am I wrong? All right, Chuck, how did ending the campaign in September impact the gearing up to run for re-election where I would have had only that one opponent on the ballot? How did that affect my petition? The people that think that are idiots."

Yes, well — today, McCotter has announced that he's quitting Congress (it returns to work next week), confirming for all time that he was just bored with the job. "The recent event's totality of calumnies, indignities and deceits," he said, "have weighed most heavily upon my family."…
Apart from silly people throwing tantrums in public, what's on the agenda for the dregs of the weekend?