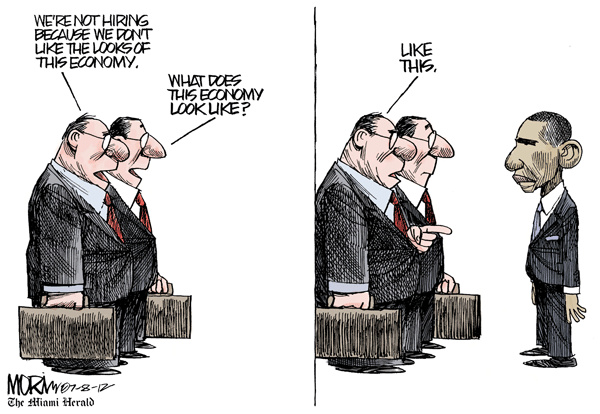 (Jim Morin via GoComics.com)
__
__
Every American election is the ugliest election ever, because the grievances never change and the technology continually improves.
State-of-the-art propaganda—broadsheets and tavern buys—was used to let "everybody know" that John Adams had pimped young American virgins to the Russian czar during his ambassadorial career, while selling America out to France to fund his own elitist anti-Christian depravities. The same state-of-art outlets broadcast that Thomas Jefferson was a repeat bankrupt who slept with his dead wife's Negro half-sister, and sold his own offspring for money to waste on imported wines and books in foreign languages. The first American election was too jury-rigged an invention for the rumors to really get traction… but the hardcore anti-federalists are still pimping the "fact" that a doddering George Washington had his head turned by that bastard half-breed Hamilton's professional charms, at the behest of the New York bankers.
Of course there's usually a grain of truth, or at least truthiness, at the heart of these slanders—Adams (much as I love the guy) really was an elitist prick with no respect for the bulk of his proudly unlettered countrymen, and Jefferson really did sleep with Sally Hemmings and spend money compulsively. People like gossip, because it's memorable. During the 1968 convention, my lace-curtain Irish Catholic grandmother, a lady who considered politics the game for men too old to play professional sports, whispered that Humphrey "took no interest in women" as the result of "a war injury". (When the backroom boys quipped that LBJ "had Hubert's pecker in his pocket", I don't think this is quite what they meant to convey.) A few years later, she was sure that Watergate happened because "that deviate 'Baby' Rebozo and his nasty little male playmates" had lured Nixon into unspeakable practices — and this was well before the National Lampoon riffed on the same cartoon satire.
Every president has been branded as an undercover non-native (Andrew Johnson was 'really' an English immigrant, Tyler & Coolidge Canadian, Hoover born in China, LBJ in Mexico) and/or non-white (Jackson, Lincoln, Harding, Clinton) and/or a business failure (Cleveland, Grant, Truman, Bush II) of suspicious religious affiliation (Madison, both 'Rosenfelts', JFK). Every single one has been labelled some kind of sexual deviate (or at least deviate-curious) desperate to sell out his country to the rising global power of the moment (England, France, Germany, Russia, Japan, China).
But our communications technology & social-engineering skills have improved to the point where, in 2012, we have a magic-underwear-ing son of a Mexican immigrant who's spent his career playing elitist bankster games to hide the vast fortune he's made selling America and his inbred slack-jawed co-religionists out to the UN and the ChiComs, trying to steal the White House (back) from a Kenyan Muslim half-breed who's never had a "real" non-governmental job in his life, ever since his globe-trotting childhood introduced him to culinary, philosphical, and possibly sexual practices that decent Christian Heartlanders™ can barely imagine (without help from cable channels & the internet).
By 2016, we'll probably be able to download a Red or Blue TruGanda Facts-ion-aid™ dataset directly into our retinal implants, but the base script won't change—our opponent is a member of That Tribe We Hate, who eats unclean foodstuffs and sleeps with taboo partners while worshipping false gods and using more than his share of the common resources. All else is commentary.
President Obama is a very, very intelligent man and a consumate politician. He knew that his life and his history would provide an extra impetus to his enemies' every lie, half-truth, and misinterpretation before he ever started campaigning, and we owe him respect for his choices as he goes forward. I'm sure that the ugliness of his opponents and the general outline of their slurs surprise him no more than the fact that DC summers can be as brutal as Chicago winters. We need to rebut the rebuttable and counter lies with facts, but non-stop public whining about how people would rather hear exciting new narratives than boring old statistics is not helpful.
If we're going to fashion a 'History's Greatest Victim' tiara, let's save it for Romney, come November.