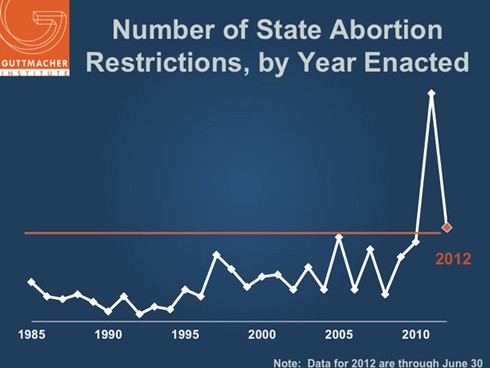 The Guttmacher Institute has been studying abortion nullification laws in state legislatures and here's what you get when you elect a bunch of Republicans.
Melinda Gates is a practicing Catholic and her foundation is giving $560 million to make contraception better and more widely available:
Gates said that in the west the bishops said one thing, but ordinary Catholics did another. "In my country 82% of Catholics say contraception is morally acceptable. So let the women in Africa decide. The choice is up to them."

She admitted, though, that she had agonised over whether to speak out in defiance of the church hierarchy. "Of course I wrestled with this. As a Catholic I believe in this religion, there are amazing things about this religion, amazing moral teachings that I do believe in, but I also have to think about how we keep women alive. I believe in not letting women die, I believe in not letting babies die, and to me that's more important than arguing about what method of contraception [is right]."
Letting women decide? Wouldn't that violate their religious freedom?