I know I am supposed to be ignoring these fact-checking clowns, but Kessler is driving me insane. He has all the facts staring him right in the face, but he just refuses to believe them. What he is doing is the equivalent of Broderistic Birtherism. Like the birthers, Glenn has all the documents in front of him, notarized and legitimate, and he just refuses to accept them at face value.
So let's put together a list of things that Glenn Kessler has to willingly and willfully ignore to come to the conclusion that Romney was not a part of Bain from 1999-2002. If I miss anything, toss it in the comments and I will add it to the list.
***
1.) The multiple SEC filings, including this 2000 document, signed by Romney himself, in which he states that he is the sole stockholder of Bain Capital.
2.) The former SEC official who discussed the filings. That's easy for our nonpartisan hack to ignore, as he deftly pushes her comments aside: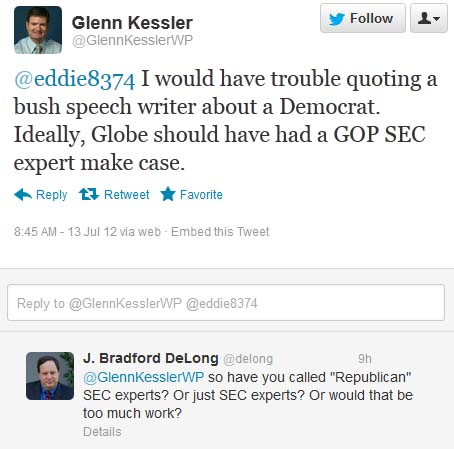 3.) Mitt Romney's own testimony:
Romney has consistently insisted that he was too busy organizing the 2002 Winter Olympics to take part in Bain business between 1999 and that event. But in the testimony, which was provided to The Huffington Post, Romney noted that he regularly traveled back to Massachusetts. "[T]here were a number of social trips and business trips that brought me back to Massachusetts, board meetings, Thanksgiving and so forth," he said.

Romney's sworn testimony was given as part of a hearing to determine whether he had sufficient residency status in Massachusetts to run for governor.

Romney testified that he "remained on the board of the Staples Corporation and Marriott International, the LifeLike Corporation" at the time.

Yet in the Aug. 12, 2011, federal disclosure form filed as part of his presidential bid, he said, "Mr. Romney retired from Bain Capital on February 11, 1999 to head the Salt Lake Organizing Committee. Since February 11, 1999, Mr. Romney has not had any active role with any Bain Capital entity and has not been involved in the operations of any Bain Capital entity in any way."

***

His activities during that period also included Staples board meetings: "I returned for most of those meetings. Others I attended by telephone if I could not return."

Bain was involved with Staples early in its life, taking the company public in 1989. Romney used his Bain position to obtain a seat on the board, which he held into 2002. He regularly cites the jobs that Staples created as reflecting positively on Bain's record.
4.) A 2001 SEC filing in which Romney is described as "the sole shareholder, sole director, Chief Executive Officer and President of Bain Investors VI and thus is the controlling person of Bain
Investors VI."
5.) The inconvenient fact that he was paid a six figure salary the entire time he was allegedly not part of Bain.
6.) This unfortunate Bain Capital press release months after Romney allegedly left Bain calling him the CEO and stating he is working part-time.
I'm sure there is much more I am missing, but at this point, I'd have more respect for Kessler if, instead of another excuse-making column, he would just cover his eyes, plug his ears, and shout "I CAN'T HEAR YOU I CAN'T HEAR YOU" like a four year old.
And another thing. If Romney wasn't the CEO for those three years, who was? Shouldn't someone be coming forward to say they were in charge, not Mitt. Wouldn't there be minutes from a board meeting detailing the line of succession? How about a mass email sent out to everyone at Bain congratulating the new CEO like you would get at every other company in America? These are arrogant fuckers, surely there has to be one Bain brochure with the new non-Mitt CEO standing in front of his office. Surely Bain must have an investor newsletter that would tell investors that Romney was out in 1999 and the new CEO was in charge. Where is all that stuff?