…is over.
Well, actually, it's been over since Mitt clinched the increasingly poisoned chalice that is his nomination, given his religion's prohibition on consuming alcohol.  (See:  Mitt and Osama do/did have something in common…)*  But this piece in Mother Jones by Tim Murphy (via Ed Kilgore) captures yet one more reason to believe that Mr. Romney is not in fact a human being, but rather a strangely ill-designed bot intended to simulate human behavior.  Consider:
Mitt Romney has a complicated relationship with fast food. He likes pizza, but insists on scraping off the cheese before he ever takes a bite. He likes fried chicken, but only when the skin has been removed. He likes Big Macs, but only after removing the middle bun. He likes Coca-Cola because, he explained in his 2004 book Turnaround, it reminds him of polar bears, but he rarely drinks it because he can't have caffeine. On the trail, Romney has name-dropped Carl's Jr. and spoken of the wonders of WaWa but subsists mainly on granola he carries around in one-gallon Ziploc bags.
Anne Laurie blogged on this general topic this morning, quoting Taibbi on how most presidents have some capacity for engaging other human beings — a liberal could enjoy watching football with George Bush and so on.
That seems basically right to me, at least in principle.  I'm not sure if I could at this point stand being in the same room with 43, but I can at least see how it might be possible to have a reasonably pleasant interaction watching my team shred whoever it is he supports.
This is more of the same.  I've spent plenty of time in red states or settings, surrounded by folks who are as different from me politically as it is possible to be, and had absolute common ground in the matter of getting elbows deep in food that' is gloriously bad for us all.  I've been taught to suck the heads of crawfish in rural Lousiana with folks with whom I dared not mention politics or faith.  I've done double duty at one of the true Meccas of American junk food, the Minnesota State Fair, (bacon ice cream? cheeseburger sticks?) where the proposition that there is nothing that can't be improved by immersion in vats of fat is annually put to the test. I've…well, you get the idea, and we have ample evidence from this blog that lots of folks here take enormous pleasure in dining high and low.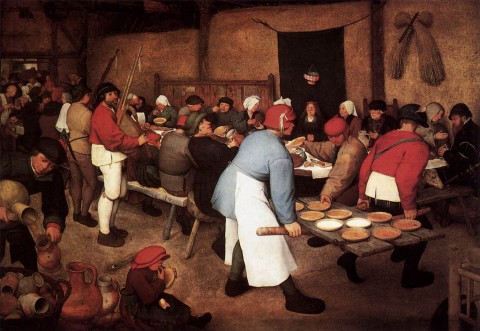 But then you read Mitt's preferences — or rather I do — and what I see there is someone who's hinky.  A bit weird.  A control freak and someone deeply uncomfortable — unprepared, even — for the daily reality of, well, just being.  And hence, in some deep way, unprepared, unqualified for the job he seeks.
Seriously.   Put youself in the scene:   imagine you're waiting at the counter of  your favorite joint when Mitt Romney of the Perfect Hair And Teeth walks in.   The guy behind the counter hands you a fresh pie, and a few minutes later RMoney gets his.
You grab a slice (the one you have to kind of torque so the cheese doesn't slide away), and you get that first bite when the cheese hasn't fully set yet and it's still hot enough to burn the tongue if you're not careful, and it has that same satisfaction that one gets from the very first gulp of a very cold beer on a day as hot as it is as I write this — and then you look up and there's RMoney, delicately picking at the mozzarrella with a fork as he tugs and pulls with precise movements until the surface of what he's about to eat is pristine, utterly free of dairy products.  He completes his task, and all he's got left is a drooping triangle of bread slathered in tomato goop.  A perfectly innocent morsel of wood-fired arterial disease transformed into something miserable, mutilated; almost an atrocity worthy of the folks at the Hague.
By this time, if the "you" here is me, I'm (a) done with my first slice and grabbing more and (b) nervously realizing that there's something really wrong with the guy next to me.  I'd start to edge away from the counter as I watch him consume in perfect, portion controlled bites the entire tomato-crust exercise in pointlessness.  Horrified, fascinated, I'd find it hard to pull my eyes off him as he takes the next piece and does it again.
Finally I'd come to my senses. That's when I grab the counterman's eye and ask for a take-out box.
All of which is to say that Mitt Romney has all the money it takes to become president and then some.  He has the advantage of a complaisant and oligarchic media whose owners have a direct interest in a Romney victory.  He has the challenger's advantage that the economy still sucks while his allies try to make sure that it continues to do so through November.  And yet I'm not at all sure he can overcome his greatest problem:  he can't cease being Mitt Romney, and that is someone — or something — that is deeply weird, and not at all in a good way.
Oh — and go read the rest of Murphy's article; it captures a microcosm of who wants Romney to win and why.  The shorter:  Romney is the candidate for those who think the minimum wage is and ever was too high.
*BTW — I don't think I've seen it written, and it hasn't occurred to me till now, but how do the geniuses of the birther crowed line up Barack Hussein Obama's not Islamic and very public pleasure at hoisting a brew and his Sekret Moooslim status.  I mean, I can guess — it's not a lie if it's intended to deceive the infidel and all that, but still, I'm not sure there's enough tin foil in the cosmos to channel the mixed messages those folks must process.
Image: Pieter Breughel the Elder, Peasant Wedding, c. 1587