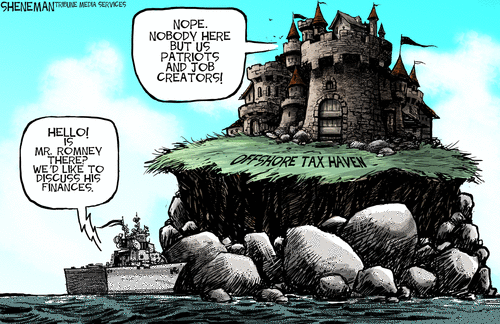 (Drew Sheneman via GoComics.com)
__
__
Blog favorite Mr. Charles P. Pierce, at his Esquire Daily Politics blog, had some particularly must-read pieces today. Apart from recommending the damning details on Romney as the real crony capitalist, I wish to attest my entire agreement, as a fellow Massachusetts citizen, with the following observation:
… It is helpful always to remind yourself that, in the mind of Willard Romney, there are only two kinds of people — himself and his family, and The Help. Throughout his career, and especially throughout his brief political career, Romney has treated The Help with a kind of lordly disdain. It was there when he swooped down from snowy Olympus and shoved an incumbent Republican governor named Jane Swift under a train. It was there in the general election in 2002, when he glibly pushed aside the Democratic candidate, state treasurer Shannon O'Brien, who raised almost all the same issues against Romney that the president and his people are belaboring him with today. The only time it didn't work was in his race against Senator Edward Kennedy, when Romney found himself up against a candidate with so much money that he couldn't outspend him, and so much historical gravitas that he couldn't ignore him.

The Help has no right to go pawing through the family books, giggling at the obvious loopholes and tax dodges, running amok through all the tax shelters, and probably getting their chocolate-y fingerprints all over the pages of the Romney family ledger. And, certainly, those members of The Help in the employ of the president of the United States, who is also part of The Help, have no right to use the nearly comically ostentatious wealth of the Romney as some sort of scrimey political weapon. He does not have to answer to The Help. I mean, jeepers, he's running for office.

This isn't stubbornness. That's often an acquired trait. What this is, fundamentally, is contempt. Contempt for the process, and contempt for the people who make their living in that process, and contempt for the people whose lives depend on that process. There are rules for The Help with which Willard Romney never has had to abide, and he has no intention of starting now.
***********
Apart from schadenfreude at the futile whinging from the Romney headquarters, what's on the agenda tonight?