So this is where a regional Ohio Democratic Party organizer, a regional OFA organizer, and some area county Democratic Party leaders have a meeting: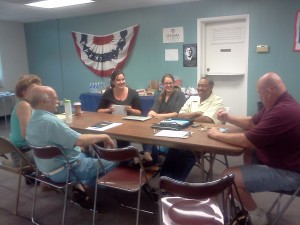 The Ohio Democratic Party and OFA came to us for two reasons. First, they want local information so the campaigns can tie the national policy and message to local issues. An example of this would be starting with something broad like "rural health care issues and the Affordable Care Act" and then we would help tailor that to three Ohio counties. The CEO of the hospital and medical group here tells the local newspaper constantly that he has difficulty recruiting and retaining physicians in our rural area. Everyone here knows that we have trouble both recruiting and retaining doctors. The local focus then would be to hit those parts of the PPACA that provide incentives for physicians to practice in rural areas. Another example would be, broadly, nationally, "manufacturing and trade rule enforcement." We have a company here that produces tires. Some of the trade enforcement actions that Obama has taken will benefit that specific tire maker.
Second, they wanted to offer us help with our local Democratic candidates, whether those candidates are statehouse or all the way down to a county commissioner or city council member. As I have mentioned here before I am helping a statehouse candidate with his race. If we were to create or purchase campaign literature for that local candidate the larger ODP/OFA operation would "carry" that lit for us if they're canvassing in the local candidate's district or county or town. That's huge for us because we have nowhere near the sort of blanket coverage and volunteer army that the state and national campaigns have. This sort of coordination is more complicated than I've indicated here because there are reporting rules and procedures that have to be followed when federal and state and local campaigns share resources in any manner, but I won't bore you with the campaign finance reporting side.
It was a really productive two hour meeting, but it could have been an equally productive one hour meeting if some at the table had resisted the urge to play national strategist and/or pundit. I'm sympathetic to this, everyone likes to play national campaign manager, and I've certainly been guilty of it myself, but that isn't what we were there for. They didn't come for us to tell them what one or another media personality said on Morning Joe and how the national campaign should respond to that, they came to ask us what we're hearing from the people here. They already know what's said on Morning Joe. What they don't know is what people are saying here. These reps from ODP and OFA aren't managers or strategists at the national level anyway, they're organizers at the county and state level. They couldn't act on our advice on national strategy even if they wanted to. Obviously, I love to talk politics and I genuinely like a lot of the local Democrats, but we can (and do) have those sorts of broad hypothetical discussions ourselves all the time. I don't know why we'd spend an hour on "Obama should…." when we have two people in front of us who want specific and local insight and in return are offering specific and local help.
During the meeting the heat broke and we had a (welcome!) downpour, and it was so cool and fresh when the rain stopped that I walked around the maybe 10 block long city-center area. There is no Romney office and the only Romney "presence" I saw was a Romney sign in the window of a place that sells knitting and embroidery supplies. The Obama office pictured below been open since April.