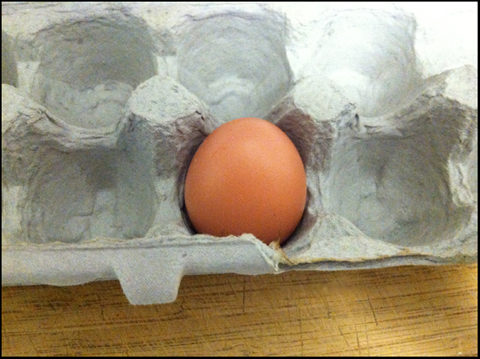 My backyard chicken project finally paid off: an egg! The hen who laid it, Dorito (pictured below), had not been selected by any of us in the first-layer pool, so through random selection my husband got to eat the first hen fruit, which he reported as delicious!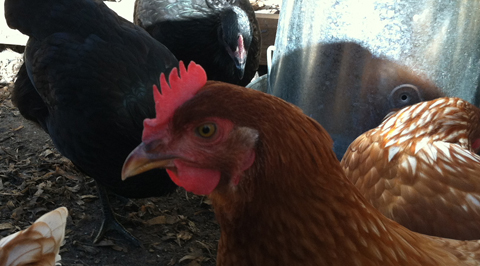 In retrospect, Dorito should have been an obvious pick in the pool as her comb and neck dooly-bobs are more developed than those of her peers. Stupidly, we all went with other indicators, like overall size or fondness for hanging out in the nest boxes.
We know who laid the first egg because we heard squawking, which my daughter went out to investigate. She then saw Dorito exiting the henhouse and found the still-very-warm egg, which she bore triumphantly to the kitchen.
That was midweek. Yesterday was the kiddo's birthday, and she had requested last week that I take the day off so I could chauffeur and chaperone her and a friend to the Batman movie premiere (matinee, not midnight showing).
Despite receiving the news of the carnage in Colorado shortly after waking up, we decided to go to the Batman premiere anyway. We figured any would-be copycats would have to wait until the local gun shops and militia gear purveyors opened at nine o'clock and that it would take some time – even in Florida – to assemble the requisite high-capacity magazines, select a target, etc., so 11 a.m. moviegoers would be relatively safe.
And we were. The kids enjoyed the movie. My verdict: meh. Anne Hathaway is a good Catwoman, but she was the only bright spot as far as I'm concerned. I think the film was trying to make some half-baked point about the Occupy movement a time or two – a point that Rush Limbaugh could sympathize with if he weren't focused on ginning up dumb outrage over the use of the name "Bane" for the villain.
Anyway, maybe I'm just shallow, but I enjoyed "The Avengers" a lot more.
[X-posted at
Rumproast
]