Frank Rich on the punditry lecturing the Obama campaign:
David Brooks lamented that Obama's negativity was "self-destructive" and left him "looking conventional." Peggy Noonan gloated: "The president opened his campaign with a full-fledged assault on his opponent. This is a bad sign in an incumbent!"
Try selling that wisdom to George W. Bush, an incumbent who started assaulting John Kerry with attack ads as early as March in 2004 rather than reprise his "compassionate conservative" campaign of 2000 (much of it in reality a dispassionate disemboweling of Al Gore). Or to Bill Clinton, who started twisting the shiv in Bob Dole in April 1996, never for a second worrying whether a sorrowful Sunday-morning talk-show pastor might ask, "What ever happened to the Man From Hope?" Those two incumbents both won, as it happened.
Every summer, there are a series of parades in the county where I live. The individual towns in the county coordinate schedules, and each town or village is allotted a certain Saturday for their parade. It's the high school marching band, fire trucks, small business-themed floats, Girl Scouts, church groups, veterans groups and incumbent politicians or people running for office. This area is so overwhelmingly Republican that the county GOP don't even bother entering a float. They simply have their incumbents drive the route in borrowed convertibles. The local Democrats do enter a float, however, and our statehouse candidate, John Vanover, borrowed the float and walked the route yesterday with his wife, Theresa: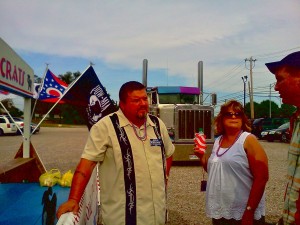 This particular town is a tough sell for Democrats. Theresa, John's wife, has never been politically active and this was her first parade. She's soft-spoken and she smiles a lot, just a generally quiet, calm person. John borrowed the Democratic float and got a driver and he and Theresa planned to walk beside the float and talk to people on the parade route. A few of us told John and Theresa we would meet them at the parade and walk with them, because many of us have….experienced this particular parade before and we figured they could use some moral support, particularly Theresa, who is new at this.
I arrived about 5 minutes before the parade started and John and Theresa had decorated the float and were ready to go. I smiled when I saw that John had put this Obama picture on the float (it's attached with twine):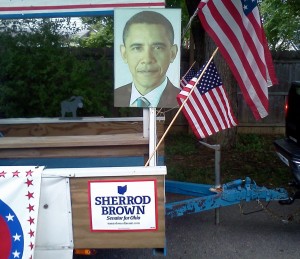 Democrats here are enthusiastic about the Obama campaign's effort to shine some light on Mitt Romney, they're enthusiastic about the "negative campaigning" that is sending our pampered pundit class into fits of sanctimonious fury, and there's a reason for that. John isn't hiding from association with the President or the President's campaign. He's proud of them.
David Brooks and Peggy Noonan and Ed Rendell might not be aware of this, but we here in Ohio have been seeing ads by Republican "outside groups" attacking Democrats and the President, non-stop, since 2009. Now, Mitt Romney's NAME wasn't on any of those ads, but that's a campaign finance legal distinction only the fact-check franchises and the punditry would make.
Whether it's the health care law or energy policy or taxes, Democrats in Ohio have been subjected to a non-stop, comprehensive, negative campaign against Obama by Republicans for YEARS now. The problem was, we never had a name and a face, before Romney. We had "issue" ads put out by Republican billionaires but no elected Republican was directly responsible for any of those ads. We're thrilled that we finally have an actual opponent to fight, a name and a face. For us, this has been a long time coming. I don't know a single Democrat here who isn't pleased that we are finally, finally in a position to fight back against an actual candidate instead of an entity like "Crossroads". The fact is, Republicans have done nothing BUT negative campaigning since 2009 in swing states, whether people like Noonan and Brooks are aware of it or not.
Republicans should quit whining. They had a three-year head start on negative campaigning for the 2012 Presidential election. They started in 2009.