Hey, Reasonoids?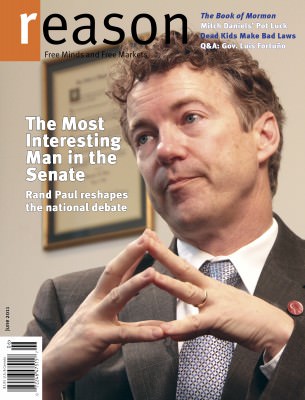 Really?  You misspelled the word "asinine" up there.   Seriously.
"They seem to say, 'Well, we are for certain revisions to make the military more efficient,' " said Paul. "I'm of the belief that nothing around you will ever be efficient unless the top line number is lower. So, they don't like what they call sequester. To me, that means that the top line number is lower, and if you really believe in savings in the military budget or else you'd have to find the savings, you'd be forced to find the savings. If they could offset it with true one-to-one spending cuts somewhere else, I might consider supporting that. If it's like most of the games they play around here—they give us cuts over 10 years to pay for something over one year—I'm not going to vote for that, because really, we're going back on what we promised the American people during that whole battle was that we're going to be more fiscally responsible."
I'm more worried about the fact that as your constituent here in Kentucky, why you keep doing things like voting to "jettison the crap" as you put it when you consider things like health care, flood insurance, food assistance, education and environmental protection to be worthless.  What you really want to jettison is the government itself, and about 200 million Americans you figure we'd be better off not having to deal with.