Steve Benen, relentlessly pounding the pavement on the Slippery Mitt's mendacity beat, catches this little Rmoneyism.
Mitt Romney sat down with CNBC's Larry Kudlow, and made a curious observation. He said voters who want a strong economy should vote for him, but Americans "ought to give, whichever president is going to be elected, at least six months or a year to get those policies in place."
So let's apply that standard to President Obama's job creation record, shall we?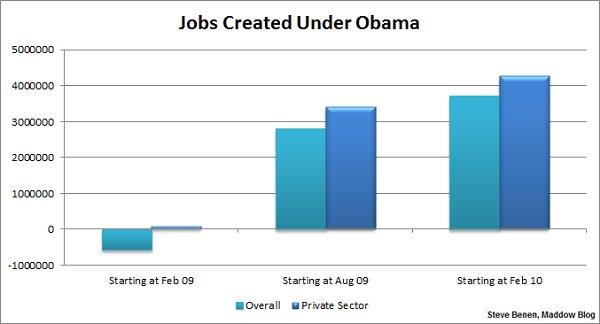 But look what happens when we start the clock, as Romney suggests, six months to a year after President Obama was sworn in. In fact, if we don't hold Obama's first year against him, the economy has added over 3.7 million jobs overall during his presidency, and over 4.2 million in the private sector.
Mitt makes that case eloquently in the hilarious "Up With Chris Hayes" video at the link. Of course, that Rmoney standard only applies to him, not to the rest of "you people." And especially not to that Muslim, Kenyan, Commie, Marxist, Apologizer guy currently occupying Mitt's rightfully ordained place in the White House.