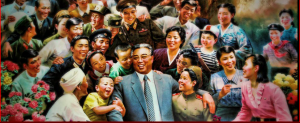 It's the slowest of slow news days, so perhaps you'd like to spend a few moments learning about the Democratic People's Republic of Korea from their new website. As this picture shows (click to embiggen), they do accentuate the positive and eliminate the negative – I can't match this guy to the dough-faced kid (Jong-un) or his much shorter and fatter dad (Jong-il), so I'm guessing this must be the patriarch (Il-Sung). And, I didn't realize that they actually start numbering their years based on when Il-Sung was born:
It was President Kim Il Sung who successfully pioneered the victorious modern history of Korea.
He was born on April 15, Juche 1 (1912) in Mangyongdae, Pyongyang. The birth of the President was a great stroke of luck for the Korean nation an event unprecedented in the history of the nation. From then on, a new chapter was opened in the Korean history and the new origin of the Juche era. It represented the beginning of the era of Juche.
I have to imagine that Juche 100 (last year) is a big deal in NK, but for some reason we didn't hear much about it in the press. Here's a commemorative stamp and an open thread in honor of the anniversary of that unprecedented stroke of luck.