Here are a couple of items that my Internet Service Person (ISP) was kind enough to use their freedom of speech to deliver to me, and now I beg their forbearance to share them with you:
* One of the Democrats in the Wisconsin State Senate has a bad case of hurt fee-fees and he won't be caucusing with the Democrats anymore. He's going to be an Independent. I think we need to send the CDC to Wisconsin to check the air conditioning system for Libermanaires' disease, which strikes only the dullest and most useless Democrats, invading their frontal cortex and forcing them to seek attention at any cost. The only cure is a successful primary challenge. Thanks to reader SMH for informing us of this tragic outbreak using his ISP's personal autonomy.
* SteveM finds the latest stupidity on the Aurora shootings: the shooter got a NIH grant. It's almost like the government paid him to kill. Reader JK's ISP was kind enough to allow him to send that in.
*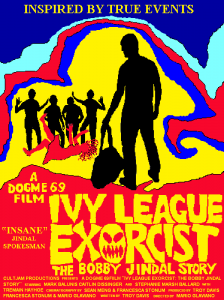 The filmmakers of this soon-to-be cult classic, which documents Bobby Jindal's exorcism of a fellow student, claim that it's the first use of WATB in film. I don't know about that, but I did like the poster (click to embiggen).