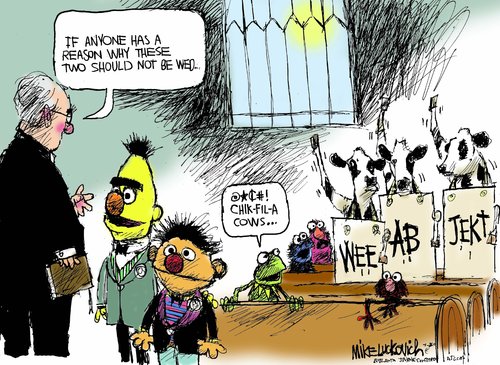 (Mike Luckovich via GoComics.com)
__
Readership capture, from Mr. Charles P. Pierce at Esquire:
Can everybody on both sides of the big political dig please now come to the overdue realization that the president was not elected to fulfill your rosy dreams of what you believe America to be? He was a politician, more ambitious than most, who was handed the biggest dungburger of pre-existing political conditions of any president since FDR. Right now, his primary obligation to himself — and, I would argue, to democracy its own self — is to keep his job out of the well-manicured and grasping talons of Willard Romney. That he is doing so with enough vigor to give the vapors to the country's lycanthropic financial titans, and to the reporters who worship them, is what he's supposed to be doing. And, in doing so, I don't think he's gone more than a yard out of bounds to make his hits. If that disturbs nappy-nap time for people who thought the country voted for Martin Luther Ruxspin last time around, that's just going to have to be too bad.
Andrew Sullivan snipes at "Diplomacy, Bain Style":
… Mitt has been a $250 million virtual dictator in his own bubble for decades. He isn't used to asking people, he is used to telling them. So he told the Brits they were unprepared for the Olympics and he told the Palestinians that their culture is inferior to Israel's. He's like a Bain consultant arriving at a new company each time he visits a new country. Generally speaking, the arrival of a consultant is not a source of great joy among a company's employees. Ditto countries and people.
NYMag's Dan Amira points out that Romney may be no diplomat, but he's run those numbers like a proper management consultant:
Is this actually a bad controversy for Romney, politically? On the one hand, Romney wants his trip to give him foreign policy credibility and to make voters comfortable with the idea of him serving as the country's chief diplomat, and a constant stream of headlines about him pissing off one country after another doesn't really communicate that. On the other hand, if he's going to infuriate someone, it might as well be the Palestinians. You probably don't need any proof that American voters don't have an overly fond opinion of Palestinians, but here is a graph anyway:

Mitt can't afford to be seen practicing 'diplomacy' — he's running for President, for petes' sake! Just fire a sufficient cadre of the lowest-paid meat-based profit units, and move on to the next client, already!
******
Apart from easy targets (diced and pickled), what's on the agenda for the evening?