So the Brookings Institution has a large report detailing how the Romney tax plan would shower riches on the already rich and screw the poor and middle class. How do right-wingers react? In two ways. First, they simply ignore it: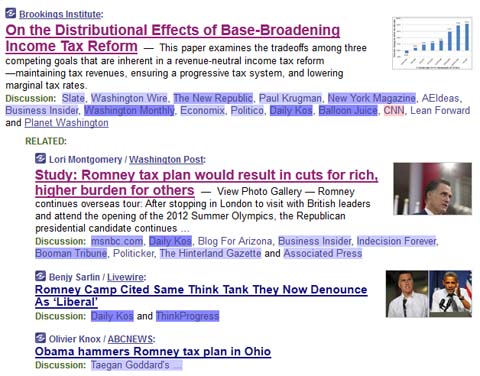 I have a Firefox add-on that, when you visit memeorandum, labels left leaning sites as blue and right-leaning sites as red. As you can see, every right-winger has basically ignored the story.
The second approach is to smear the study:
The Romney campaign is pushing back against a new study from researchers at the nonpartisan Tax Policy Center suggesting Mitt Romney's tax proposals would actually increase taxes for a whopping a 95% of Americans, denouncing the Tax Policy Center, a joint project of the Urban Institute and Brookings Institution, as a "liberal" group. While the Romney campaign hasn't rebutted the substance of the study, they claim the Tax Policy Center should be dismissed entirely as a biased source.
As we all know, facts have a liberal bias.