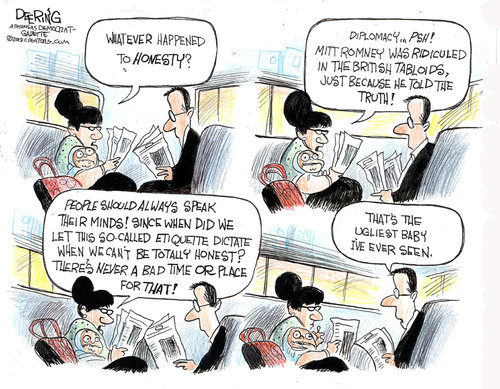 (John Deering via GoComics.com)
__
A little palate cleanser, from the great Doghouse Riley:
This week a major New York Times opinion writer, one who is inexplicably David Brooks, wrote a column about how dull the 2012 Presidential campaign is because the candidates won't talk about the issues. The good news here is that he was not immediately struck down by a Vengeful God, so, pretty much anything goes from here on out….

Then after twenty-seven debates it turns out that the Republican party managed to nominate George Bush III. (Can we start calling Willard "Dubya" now?) And it did so, you may recall, because the Republican party, which is goddamned apodictically certain about everything, decided that no one who talked like a real Republican had any chance of winning.

I don't need to tell you that this is a party whose public intellectuals include George Eff Will, Chuckles Krauthammer, Charles Murray, and the aforementioned Mr. Brooks, and that, as a result, it has suffered from a serious overcompensation problem for the last thirty-five years. The job of "conservative" intellectual pays well enough that one can afford to overcome the habits that plague other intellectuals, like independent thought, open dialogue, and honesty…

To be fair, this year they were focused more on derailing the nomination of any of a dozen Sara Palins, Jr. Then again, the mere fact of the original Half-Term is another object lesson they've studiously, and incomprehensibly, avoided when they knew the mic was on. You are the party of paste-eating morons and the Hopelessly Entrenched Privileged, who have effectively captured the steering mechanism whereby the Accumulated Wealth and Strength of Post-War America is being stolen, headlong and in haste, and right out in front'a God an' everbody. And the closest thing we get to a public acknowledgement is the occasional Brooks PBS smirk, or Eff Will objection that some 19th century principle he made up is being ignored by The Washington Establishment. If you honestly believed in the Reagan legacy (I mean the fake, positive one, not the real, disastrous one) you'd be screaming bloody murder about what his party, and yours, has "done" to it. Instead there's the aristocratic grabbing of handkerchiefs when Newt Gingrich or Michele Bachmann farts in an elevator again, or when Rick Perry turns out to be a complete moron despite your wife's best efforts….
***********
Apart from pointing and mocking, what's on the agenda for the evening?