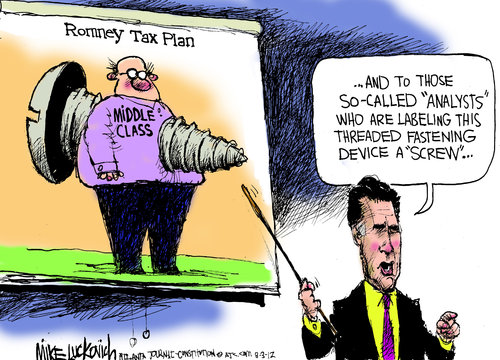 (Mike Luckovich via GoComics.com)
__
Best headline of the day: The Stranger's Paul Constant, "Mitt Romney Says He Has Paid Taxes, So Harry Reid Just Better Stop Picking on Him, or Romney Will Tell Mom":
… It's become a regular Romney campaign stunt to try to put out fires by scheduling press availabilities on Friday afternoon. But Friday afternoons are when most campaigns assume people aren't paying attention to the news. I don't know exactly why Romney's people keep doing this. Maybe it's because they don't trust Romney to not fuck it up?

Well, Romney fucked this one up. Hugely. He looks cagey, whiney, and powerless, here. I expect him to burst into tears at the end of this statement. "Bullied" is not high on the list of qualities people like in their presidential candidates. And his demand that Reid release his sources still sounds fishy, because the one human being who could conclusively settle this matter once and for all is Mitt Romney, by releasing his taxes. If Romney keeps this up, he'll look like the saddest sack to run for president since Ed Muskie. And at least Muskie was sobbing about his wife; Romney keeps getting all huffy over his money.
Apart from the ongoing neural net implosion of the Romneybot v.2012, what's on the agenda for the beginning of the weekend?