Here's my godson in my tub: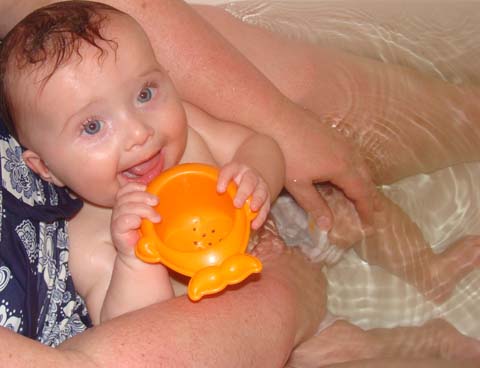 For the first time in my life, I kind of almost regret not ever getting married and having kids, because this little one is so damned adorable. I've never met a more even tempered kid, although if I had a kid, it would probably be as much of a pain in the ass as I was as a baby. Mom always tells me I was the worst of the four kids- the pregnancy was worse, the labor was worse, I was an unholy terror for the first two years, and even my BM's smelled worse than the other three kids.
The funniest thing about young Cole is that he is really at his prime in the AM. He got some good sleep, his belly is full, and he just spends the morning cooing and giggling and being wild-eyed at everything around him. He also has discovered he can make this unholy shrieking sound that Sarah and Ryan have dubbed the "Velociraptor." He just does it out of joy, and you hear him making all these wild vocalizations.
I'm not a virgin to babies, but this seriously is the happiest kid I have ever seen. Still have not seen him cry in over 48 hours.