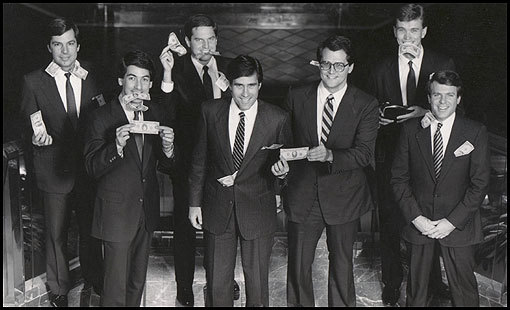 Today, the Romney camp accused black President Obama of "gutting" white President Clinton's welfare reform plan and promised that future white President Romney would promptly restore it. They don't say "black" and "white" of course, but see the ad for yourself — the subtext is pretty obvious. An excerpt:
"Under Obama's plan, you wouldn't have to work and wouldn't have to train for a job. They just send you your welfare check."
That's a big fat lie, of course: The waiver the administration is requesting doesn't get rid of the work requirement but rather gives states greater latitude in fulfilling it via their own programs, something states' rights-conscious Republicans would normally support. And hey, look who did support just such a waiver when he was a governor!
My point in bringing this up isn't to reiterate that Romney is a shameless liar and hypocrite, though he certainly is. And of course the implication that indolent, swarthy slackers are able to smoke crack and watch TV all day funded by welfare checks wrung from the wages of hardworking white folks has been an extremely effective GOP lie for 40-some years now.
What I find extra puke-inducing about the whole thing this time around is the messenger, as if Romney — or anyone in his family — has the faintest idea what it's like to be a hardworking shmoe. Hearing this lie packaged from the Romney campaign is like listening to a bailout-snarfing bankster asshole talk about the "moral hazards" involved in providing relief to struggling mortgage holders.
They're the entitled pricks who don't know the meaning of a hard day's work and think the world owes them a living. Maybe it's just me, but I find the same lie from that source even more annoying than when I hear it from the brain-dead Dittohead at the feed store.
[X-posted at
Rumproast
]