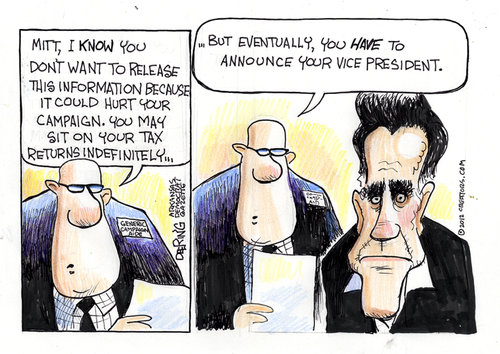 (John Deering via GoComics.com)
__
The NYTimes' Frank Bruni has bad news for anyone who needs to stay awake while watching the Republican National Convention:
…[T]he lineups of speakers: that's an issue of the utmost deliberation and sometimes consternation and enormous, epic consequence. All party stalwarts agree on that, until they think about it a bit longer and realize that, well, they're really not so sure.

On Monday I talked to two prominent Republican strategists in a row who said that Mitt Romney's choice of keynote speaker, not yet determined, was essential. Then they tried to recall who that essential choice from the 2008 Republican convention was, and came up blank.

I myself had to Google it: Rudy Giuliani. There are some things you really do force yourself to forget.

One of the strategists asserted that Romney's greatest mistake would be to emulate the Democrats in 2004, when the keynoter, a certain Barack Obama, shone brighter than the nominee, John Kerry, perhaps making him look duller in contrast. The strategist did not admit per se that Romney had a luminescence problem. There are some things you really needn't say.

He recommended that Romney take a page from the Republican grand master of stagecraft, Ronald Reagan, and select a keynote speaker of restrained wattage.

"Do you know who did the 1980 keynote for Reagan?" he asked.

I said I was mortified that I didn't. I wasn't being entirely truthful about the mortification part.

"Guy Vander Jagt," he said.

"Guy who?"

"Exactly," he said. "Reagan understood what it meant to be the star, and he had seen 'All About Eve.' " …
Paul Constant, who will be in attendance, glumly contemplates the entertainment prospects:
… This convention looks like it'll be prime Teabaggy territory, with Rand Paul waving his dad-flag, Rick Scott explaining how Florida is a "model for the country," Mike Huckabee talking about chicken sandwiches and Jesus, John McCain doing a victory lap, and an inch-thick layer of Santorum all over everything. It should be a conflagration of crazy. But Republicans shouldn't worry about the future of their party—Jeb Bush's speech will be no doubt promoted with great faux-surprise by party elders as a bright spot in the convention, and Jeb will be all lined up for the Republican nomination in 2016, just in case Romney doesn't win this thing in November.
Apart from delighting in the endless GOP FailParade, what's on the agenda for the evening?