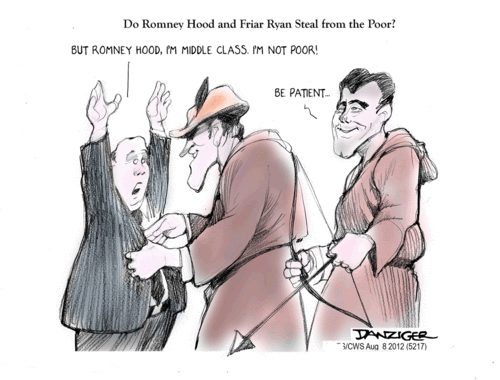 (Jeff Danziger's website)
__
It's August, aka the Silly Season, which in America means kids get sent to camp, political bloggers choose up teams to start this year's round of civil warz to the death, and Seattle's Stranger sends its book editor Paul Constant to a business conference:
Yesterday, I Went to the American Idol for Startups. It Made Me Want to Die.
… These women and men have come together to do brutal violence to the English language, to leave the spoken and written word bloodied and victimized on a cold cement floor, wishing for the sweet relief of death.

Or at least, that's the unintentional result. The ostensible reason they've gathered in Showbox SoDo, hiding away from the sunny afternoon in a dark room lousy with power strips, is to stare at a podium and a screen and lose a whole day to PowerPoint. They're all wearing lanyards with big plastic placards dangling around their navels, their names in huge, humpty-point type and the words "Startup Riot Seattle 2012" and "#occupystartups" at the top. Ostensibly, they're here to take part in something like an American Idol for startups…

But, oh, my God, the terrible things these people do to words. It's like watching some sadist work over a baby lamb with a rusty crowbar and a broken gin bottle. The names of these startups sound like the products of an aggressive brain tumor on the frontal lobe. Crowdegy, Placeling, Kouply, QuoteRobot, Appthwack, Makegood, Onthego, Nickler, Kahal, Tanzio, Taskk. They're all whimsical and unique in exactly the same way. One of the judges works for Storenvy. The main corporate sponsor for Startup Riot is Mailchimp, along with a flock of smaller sponsors like Uber, Gist, and Twilio. I could staple the mismatched meat of syllables together all afternoon and you wouldn't be able to tell the legitimate businesses from the illegitimate: Mehole, Kaprah, Yimmy, Blanter, Catzap, Dunzyinonezy, Simplert, Lustaminate…
It's also the season for the NYTimes — and not in the Style section, either — to tonguebathe the latest Republican attempt at re-branding for the Kool Kidz:
Young in G.O.P. Erase the Lines on Social Issues
…. Polls show that Americans under 30 are the least likely to identify as Republican, and those in the millennial generation support President Obama by a wide margin. But in an effort to win votes by capitalizing on disenchantment with the recession and its slow recovery, Republicans are placing a renewed emphasis on fiscal issues, with hopes of energizing their young people — a group that had one of the lowest turnout levels in the history of presidential elections in 2008 and did not turn out in strong numbers in this year's primaries.

"I would prefer that Mitt Romney leave social issues sort of alone, because I do disagree with him on those things," said Ms. Kotzambasis, whose group, like many others, operates mostly independent of any national party oversight. "He keeps saying that the first things he'll tackle are health care and the economy, and I hope he tackles the economy. I'm graduating in a couple years, and it's pretty dismal where I am."

What has become the norm, some experts say, is for young Republicans to take a cafeteria-style approach to issues that are important to them. And some established leaders see that as a boon to their party.

"My theory is that, just as young people don't have to buy a whole album on iTunes and can pick and choose just the songs they like, they can customize their political views — and they do," said Kristen Soltis, a Republican pollster who is the communications adviser to Crossroads Generation, a new pro-Romney "super PAC" aimed at young voters…
Look, you miserable spoilt little weanlings (she said, shouting at the clouds), if you're going to vote Republican, and least sack up and own your IGM (y parents) FU politics. Your highest ambition in life is to be Luke Russert, or at least Luke Russert's trophy wife, and meanwhile you're coasting on mommy's credit card and daddy's employer-paid health insurance, and every penny of sales tax on that Prada/ Gucci/Louis Vuitton must-have bag-of-the-summer chafes your expensively toned quads. You don't want to be embarrassed in front of your friends, so you're telling the NYT stenographer you're "cafeteria-style" Republicans who have nothing to do with those sweaty Tea Party types all lathered up about sodomites and feminazis and kenyamuslimsocialists. Yeah, let's you and me and all the world take your pick'n'mix mealy-mouthing out for a spin at the Tampa convention and watch the ensuing kumbaya…(/unfair alte kacker rant)
***********
Apart from — well, probably, along with — THe Silly, what's on the agenda for the evening?