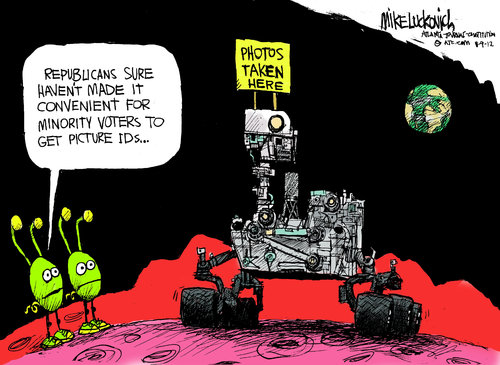 (Mike Luckovich via GoComics.com)
__
I wanna see a Wii version of this extremely Olympic sport — the modern pentathalon:
To get it out of the way, yes, this is the event with the laser gun shooting. But it also includes: fencing, freestyle swimming and show jumping(!), all topped off with a nice little 3k run. You're probably saying to yourself, "Self, none of these things go together and none of them are modern." You're right! (It's also, with four events, not strictly a pentathlon. But we'll get to that.)

The modern pentathlon isn't modern because of its state-of-the art-events. It's modern because it replaced the stodgy old pentathlon that was good enough for more than 2,500 years. In ancient Olympic times there was a pentathlon that comprised discus, javelin, long jumping, running and wrestling. After founding the modern Olympic games in 1896, Pierre de Coubertin felt the event needed to be updated too, so he tossed out those crusty disciplines and replaced them with exciting new ones, plus a horse. It was introduced with this thrilling narrative:

"A soldier is ordered to deliver a message on horseback. When the horse went down, he was forced to defend himself with both a sword and pistol. He completed his mission by swimming across a river and running a long distance through the woods."
__
(That's right, "the woods." That's why the 3k run goes cross country.)
__
Officially debuting in 1912, the modern pentathlon is the only event created specifically for the Olympic games…
**********
Apart from the boundless excess of human creativity, what's on the agenda for the end of this politically aerobic weekend?