Remember the Gaypocalypse that swept away US military capability once the end of Don't Ask Don't Tell allowed the pink hordes to overrun our defenses?
Me either.
Hence, this fine news (via GOS):
Army reserve officer Tammy Smith calls her recent promotion to brigadier general exciting and humbling, saying it gives her a chance to be a leader in advancing Army values and excellence.

What she glosses over is that along with the promotion she is also publicly acknowledging her sexuality for the first time, making her the first general officer to come out as gay while still serving. It comes less than a year after the end of the controversial "don't ask, don't tell" law.

"All of those facts are irrelevant," she said. "I don't think I need to be focused on that. What is relevant is upholding Army values and the responsibility this carries."

But Smith's pinning ceremony on Friday marks an important milestone for gay rights advocates, giving the movement its most senior public military figure. She has already been assigned as deputy chief at the Office of the Chief at the Army Reserve, and spent much of 2011 serving in Afghanistan.
Congratulations to General Smith, and to the institution that has made this civil rights step pass so smoothly that this news is mostly an afterthought.
Also:
Stars and Stripes interviewed Smith last summer before the "don't ask, don't tell" repeal was finalized. Speaking under a pseudonym, she said she had no plans to come out to her colleagues, but was looking forward to the relief of knowing that her career wouldn't be threatened if she was found out.

"Finally my partner and I will be able to go out and have drinks together without worrying," she said then.
Imagine! The nerve of those gay folks! Presuming to hope for a stress-free evening with one's family. Clearly the reckoning must be upon us.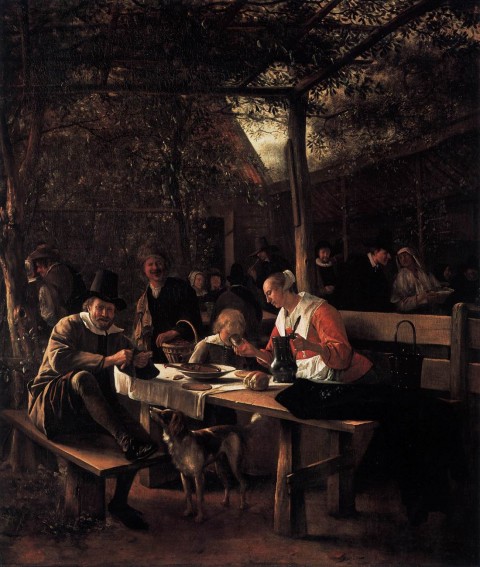 Image:  Jan Steen, Tavern Garden, c. 1660