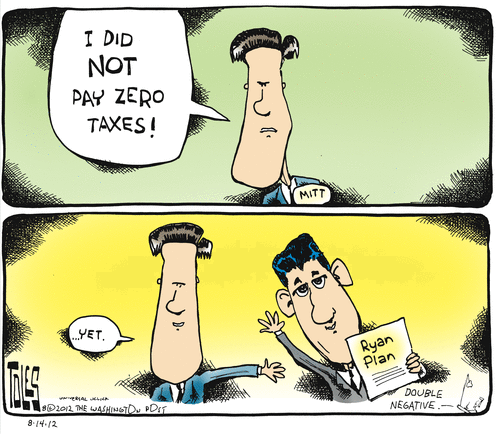 (Tom Toles via GoComics.com)
Or maybe just matching pimp'n'ho costumes for the Robot/Undertaker 2012 ticket. Jonathan Chait at NYMag explains how "Ryan Helps Romney Reclaim His Political Virginity":
… How can Romney, whose campaign spent months relentlessly smearing Republican and Democratic foe alike and spitting derision at the naïveté of anybody who objected, reclaim his political virginity? By bathing in Ryan's soft glow.

One underrated aspect of the new GOP veep nominee's political arsenal is a recurring persona of his that you might call Sad Paul Ryan. Sad Paul Ryan is less an ideological crusader and more like a wide-eyed boy who has come to Washington full of hope only to have his youthful dreams crushed by nastiness and name-calling. How Ryan's high-minded belief in the purity of political debate managed to survive his rise to power as a Washington staffer, I cannot say. So emotionally vulnerable is Sad Paul Ryan that even a statistical recitation of the effects of his plan will nearly reduce him to tears. He is capable of complaining that Obama will "affix views to your opponent that they do not have so you can demonize them" — two sentences after accusing Obama of advocating "socialized medicine."

Yet Sad Paul Ryan appears so genuinely sad when he says such things — quite likely because he lacks the self-awareness that might complicate his earnest dejection — that he melts the cynicism of hardened observers. So Romney's advisers are now proclaiming, "We are betting that a substantive campaign, conducted on the high ground, and focused primarily on jobs and the economy, will trump a campaign that is designed to appeal to our worst instincts," and the candidate himself is delivering lines such as "Mr. President, take your campaign out of the gutter and let's talk about issues." (Talking About the Issues is Ryan's thing, unless talking about the Issues means discussing any specific element contained within his plan, in which case he would rather talk about bowhunting or catfish noodling.) Romney and Ryan inaugurated their new high-road campaign with the charge that Obama "robbed" $700 billion from Medicare, declining to mention that their own plans keep the same cuts in place….
Somehow, the 'extreme sport' of catfish noodling is an almost unduely apt metaphor for the Gekko/Galt 2012 ticket: wading through a river of mud, hoping to score by sticking one's arm down the throat of a bloated bottom feeder like Rupert Murdoch, Sheldon Adelman, or David/Charles Koch…