I'm having a Women For Zimmann event at my house at the end of the month. We think she's a strong candidate and I like her personally. I would have a beer with this woman, if I drank beer, which I don't. If Obama and Brown do well at the top of the ticket we think maybe Angela can beat Mr. Latta:
The challenger to U.S. Rep. Bob Latta's re-election in Ohio's 5th Congressional District said she introduced herself to a United Auto Workers picnic Sunday as "a mom and foster mom, an engineer, a professor at Bowling Green, and a pastor," then proceeded to chide the incumbent Republican from Bowling Green for his 2009 vote against the auto-industry bailout.
Angela Zimmann, the Democratic party candidate, said she emphasized the automotive industry's importance to Ohio and support of middle-class families and protection of workers' rights during her speech to about 50 people at the annual UAW Civil Rights Picnic in Powertrain Park, next to General Motors Co.'s transmission plant in northwest Toledo.
"It's truly amazing that Bob Latta talks about bringing jobs to northwest Ohio when he voted against your auto industry jobs. My opponent continues to vote against your hard work," Ms. Zimmann said.
"When you vote against the auto industry in Ohio, you have no right to be a representative here. Any representative from Ohio should stand with the auto industry. That's the bottom line," she said.
Mr. Latta rejected the idea that he does not stand with the auto industry.
"The auto industry plays a big role in the economy here, and we need to make sure it remains vibrant," he said by phone when reached after the picnic.
Ms. Zimmann also argued that Mr. Latta's policies have caused northwest Ohio to lose manufacturing jobs to outsourcing. "My opponent is very interested in preserving tax breaks for companies that outsource jobs. It's completely un-American," she said.
"Companies are sending jobs overseas, while our people here are standing in the unemployment line."
Mr. Latta said in response: "I'm not sure what she's talking about, honestly. I've been voting to make sure we have a tax code that will work, and right now we don't."
He has held the 5th District seat since December, 2007, when he won a special election to succeed Paul Gillmor (R., Old Fort).Mr. Gillmor died in office.Mr. Latta has twice won re-election.
But because of this year's redrawing of the district's boundaries to include 165,000 voters formerly from neighboring districts, Ms. Zimmann says she is confident she can unseat him.Most of the "new" voters were formerly in the 9th District, the stronghold of U.S. Rep. Marcy Kaptur (D., Toledo).
"It's a very different district than it was in the past. He's really half of an incumbent," she said "Now the district has a half percent Democratic lean."
Mr. Latta dismissed this statement."My district is solidly Republican," he said.
The morning of the Women for Zimmann event, I'm backing this rabbit in the 4-H pet rabbit competition: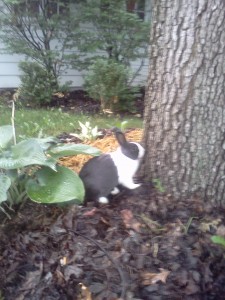 You can't tell from the picture, but he's 6'2" with piercing blue eyes. On the downside, he's a Dutch, so a foreigner.