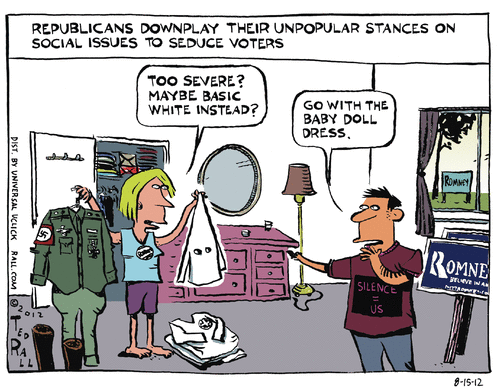 (Ted Rall's blog)
__
Alex Pareene (latest recipient of a Trump hate-tweet) reports on the GOP's newest scary campfire tale:
Consider yourself warned: If Obama loses to Mitt Romney in 2012, might he run again in 2016? Kathryn Jean Lopez says probably!

First, the National Review's Jim Geraghty suggests that if Obama loses, the whining Democrats will, as always, cry foul, and say the result was illegitimate, just like they always do, especially as they did that one time when the Republican became president despite actually losing the election, and they will of course blame "Voter ID laws" just because said laws are designed to disenfranchise certain Obama voters, but most important, Obama is such a craven political hack that he will refuse to politely abide by the result of the election and he'll definitely continue trying to run for president…

So! Obama will totally be so bitter and unwilling to face reality that he'll run again in 2016 and try to become our first president to serve non-consecutive terms since Grover Cleveland, because he is simply unwilling to relax his grip on power. This is sort of the polite and not-quite-insane version of the "Obama will suspend the Constitution to make himself president-for-life" conspiracy, which is of course a modern update on the same conspiracy theories about President Bill Clinton, who we were also repeatedly told was too addicted to the office to go quietly when his time was done…
Minor history lesson (I'd forgotten how Bill Clinton was planning to use the Y2K Bug to appoint himself Dictator-for-Life, for you kids who think right-wing paranoia fantasies were invented in November 2008) and more hilarity at the link.
***********
Apart from mocking idiots to encourage healthy sales in the WND website and adult-diaper market, what's on the agenda for the evening?