These babies are popping up all over the northern panhandle and southwestern PA: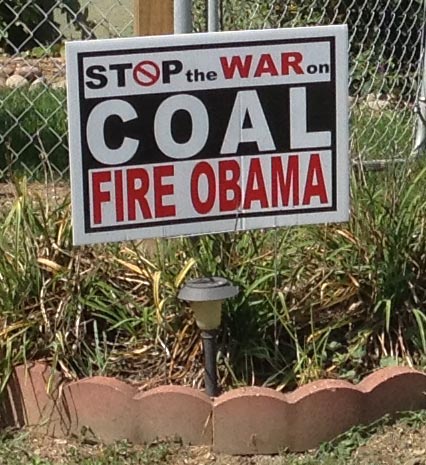 Because we are in the middle of a post truth and post accountability election, I have no idea where the signs are coming from. There are no paid for markings on the signs, so I just have no clue. Could be the Romney campaign, could be a super pac that is anti-Obama, could be the Friends of Coal, or it could be just one wingnut owner of a coal company like Don Blankenship. What's depressing, though, is it just keeps pushing the fals narrative that Obama is somehow killing coal. Hell, Obama has spent the last couple years blowing sloppy kisses at the ludicrous notion of "clean coal," enraging environmentalists. At any rate, as we have stated over and over and over again, what is killing coal is natural gas:
Energy-related carbon dioxide emissions in the United States from January through March were the lowest of any recorded for the first quarter of the year since 1992, the federal Energy Information Administration reports. The agency attributed the decline to a combination of three factors: a mild winter, reduced demand for gasoline and, most significantly, a drop in coal-fired electricity generation because of historically low natural gas prices. Whether emissions will continue to drop or begin to rise again, however, remains to be seen, experts said Friday.

"While this is a positive step, we shouldn't just say, 'Oh, we've got plenty of natural gas, we can just switch to that, problem solved,' and move on," said Jay Apt, the director of the Carnegie Mellon Electricity Industry Center, who was not involved in compiling the study.

Carbon dioxide emissions from energy consumption totaled 1.34 billion metric tons in the first quarter, down nearly 8 percent from a year earlier, the Energy Information Administration said.

Although natural gas is a more efficient fossil fuel than coal, burning it still produces carbon dioxide emissions. One of its strengths lies in that it produces more kilowatts of power than the equivalent amount of coal and it provides more energy for each carbon dioxide molecule emitted into the atmosphere. This so-called carbon efficiency is one of the key equations that scientists use to project carbon dioxide emissions, with more efficient energy sources contributing less to global warming than the more inefficient emitters.
Claiming there is a war on coal is akin to claiming that Henry Ford declared war on horses. At any rate, if there was a war on coal, I wouldn't say it is completely over, but troops friendly to natural gas are massing near Waterloo.