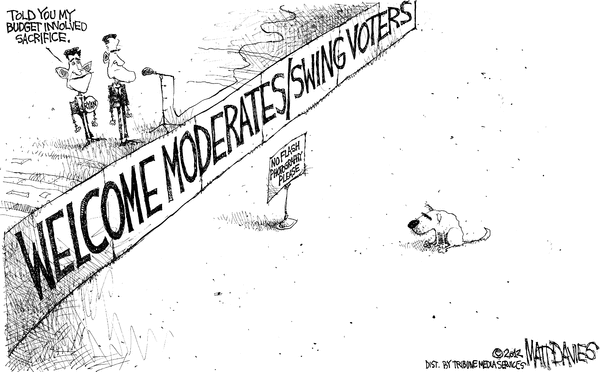 (Matt Davies via GoComics.com)
__
Under a photo of a set that looks like the bastard offspring of Minority Report and Enemy of the State, the NYTimes reports that the "Romney Campaign Works Feverishly to Project A Relaxed Image":
… Working from makeshift offices at a hockey arena here, a team of Romney advisers, producers and designers have been staging and scripting a program for the Republican National Convention that they say they hope will accomplish something a year of campaigning has failed to do: paint a full and revealing portrait of who Mitt Romney is…

The campaign aides are determined to overcome perceptions that Mr. Romney is stiff, aloof and distant. So they have built one of the most intricate set pieces ever designed for a convention — a $2.5 million Frank Lloyd Wright-inspired theatrical stage. From its dark-wood finish to the brightly glowing high-resolution screens in the rafters that look like skylights, every aspect of the stage has been designed to convey warmth, approachability and openness…

The most ambitious element of stagecraft, however, will be the podium — which features 13 different video screens — the largest about 29 feet by 12 feet, the smallest about 8 feet by 8 feet and movable. All the screens will be framed in dark wood…

Along with other props — including a digital clock mounted to one of the arena's upper rings that will show the national debt ticking ever-higher — the video screens will help augment whatever messages a speaker is trying to convey, be it images of woeful-looking Americans to convey that President Obama has mismanaged the economy or pictures of the Romney children that speak to the candidate's deep bonds with his family….

Mr. Romney, who as the planner for the Salt Lake City Olympics has experience coordinating large-scale events, has had a direct hand in shaping some major aspects of the convention, from the podium design to the theme, "A Better Future," which he personally approved.
Probably just as well that the target audience is either too old or too young to remember Max Headroom: "He's the toast of the town (lightly buttered). He's the non-fattening sugar substitute in your tea. He's a bon vivant, a gaucho amigo, a goomba, a mensch, and the fifth musketeer. He's the apple of your eye and aren't you glad he's here. Direct from a wax and shine at the carwash around the corner, it's the man of the hour, or at least for a good thirty minutes, Max Headroom."
Meanwhile, speaking of warmth, snobby urban elitist Will Doig calls the city of Tampa "America's Hottest Mess" — "a disaster, and a perfect reflection of where Tea Party politics will lead cities":
… Tampa is a hot urban mess, equal parts Reagan '80s and Paul Ryan 2010s. Urban renewal projects decimated the city in the '60s, but its current persona was forged in earnest starting three decades ago, when finance and insurance companies started moving their back-office operations there, attracted by the sunshine and low-cost labor. The 1988 bestseller "Megatrends" declared Tampa "America's next great city." Real estate joined the service economy as a major economic pillar, and the city embarked on a building spree, sprouting large glass towers disconnected from the city itself, a development pattern that offered little incentive to invest in things like parks, transit or walkable spaces.

This left little of the quality urbanism people now pay a premium for. And while other cities made similar mistakes, Tampa has been slow to correct theirs, stymied by tight-fisted Tea Party politics. "We look at Dallas or Houston, with all the same challenges we have; they've managed to start changing their patterns of development and attract the creative-class younger folks who are looking for alternatives to the suburban lifestyle," says Steve Schukraft, the Tampa Bay area's representative to the Congress for the New Urbanism. When you're wistfully pining for Houston's urban virtues, things are not going well…

But Tampa can only do so much thanks to a toxic combination of hostility toward government, revenue and collectively used amenities. What's the matter with Tampa? The Republican conventioneers will get to see for themselves when they arrive. Except that some of them will be staying up to 90 miles away from the convention venue. "Tampa's reeeally spread out," the host of the Politico discussion observed to Mayor Buckhorn. That it is. And because of this, the city has chartered over 400 buses to move the convention visitors around while they're there…
Four hundred rental buses full of excited conventioneers and politicos, in Florida, in August — what could possibly go wrong with those visuals? The city fathers can congratulate themselves on one small victory, however: Nowhere in either article do the phrases "strip club" or "lap dances" appear. Progress!