Dear Mr. Romney and Mr Ryan,
For your urgent consideration:
A Republican official in Texas, Judge Thomas Head, has openly suggested that civil  war might follow President Obama's re-election. Head's casus belli is that if Obama gains re-election, "he's going to try to hand over the sovereignty of the United States to the U.N."  He then asks, "what is going to happen when that happens?"
Answering himself, his phrasing suggests that he believes that such a response would be justifiable under the same terms under which the colonies sought to separate from Great Britain:
"I'm thinking worst case scenario now," Head said during an appearance on FOX 34 in Lubbock. "Civil unrest, civil disobedience, civil war, maybe. And we're not talking just a few riots here and demonstrations, we're talking Lexington, Concord, take up arms and get rid of the guy." [emphasis added]
Head's judgeship is actually a county-executive position under Texas nomenclature.  Thus, Mr. Romney and Mr Ryan, he is an elected representative and a member of your party.  I ask you:  do you repudiate this call to treason?
If not, why not?
[Like I said below, you can't help noncompliant patients.  I'm beginning to think that we're going to need aerosol antipsychotics in the Tampa convention building next week.]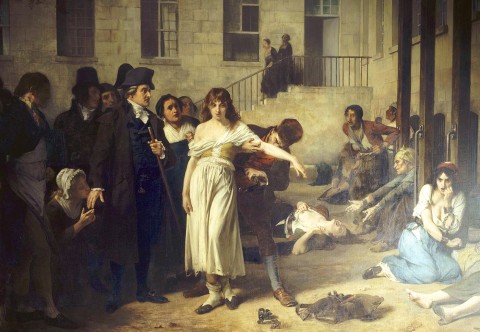 Image: Tony Robert-Fleury, Pinel, médecin en chef de la Salpêtrière, délivrant les aliénés de leurs chaînes, 19th century