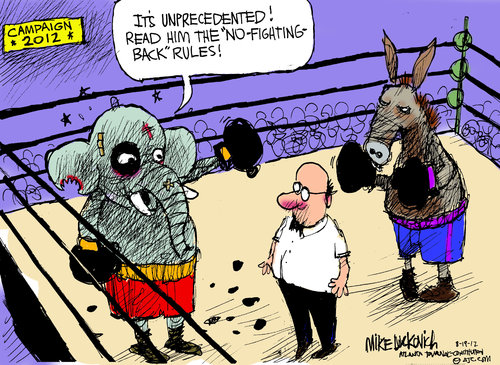 (Mike Luckovich via GoComics.com)
(h/t commentors Siubhanduinne and SIA, who emailed me separately demanding I use it)
__
Via TPMLivewire, totally non-partisan megachurch Prosperity-Gospel-humper Rick "Saddleback" Warren has cancelled his "presidential forum":
Citing the negative climate of the current presidential race, Pastor Rick Warren on Wednesday canceled the Civil Forum with President Barack Obama and Mitt Romney originally scheduled to be held this week at his Southern California megachurch, the Orange County Register reports.

Warren's forum four years ago at Saddle Back Church in Lake Forest, Calif., with Obama and Sen. John McCain (R-Ariz.) was widely praised, but the pastor and best-selling author said the tenor of this year's campaign runs counter to the spirit of the event.

"We created the Civil Forums to promote civility and personal respect between people with major differences," Warren said in an announcement Wednesday. "The forums are meant to be a place where people of good-will can seriously disagree on significant issues without being disagreeable or resorting to personal attack and name-calling. But that is not the climate of today's campaign. I've never seen more irresponsible personal attacks, mean-spirited slander, and flat-out dishonest attack ads, and I don't expect that tone to change before the election."
H/t commentor Lamnh. Some people say that Warren was worried about the risk of identifying Romney as a Mormon in front of God and his nominally-evangelical congregation, but I go with Occam's Razor: Since the treasure-where-his-heart-is prosperity of Pastor Warren's gospel lies in the gated community of Republican-friendly stalwarts like Erick Erickson, why risk so public a media airing of Romney's charisma deficit compared to President Obama? Better to pass on this year's debacle, and hope that Pastor Huckabee or another of the rising Talibangelical hopefuls doesn't have too firm a spiritual-publicity grip on Jeb! or Rubio or whoever gets the ( R ) ticket in 2016…
How many cowardly apostates will desert the sinking ship? Charlie Pierce notes "Call Me Cynical":
I couldn't help but notice that Ann Romney told Brian Williams that she had experienced a flare-up of her multiple sclerosis last spring and that it had given her "a real scare," of which, for reasons I decline to go into here, I have absolutely no doubt. (In fact, I've wondered from the start if the stress of a presidential campaign really was the best thing for her, but that's her call and none of my damn business.) However, I am just cynical enough about her husband's campaign to wonder quite seriously why we're hearing about it, of all months, this month…

In a month in which the Republican party seems bound and determined never to get a vote from anyone with ovaries ever again, from the one person the campaign has going for it with any women at all, we get this little tidbit over which to empathize for a couple of days. I honestly wish the raw and open dishonesty of her husband's campaign hadn't made me so jaded. But then again, the Akin thing happened afterward.