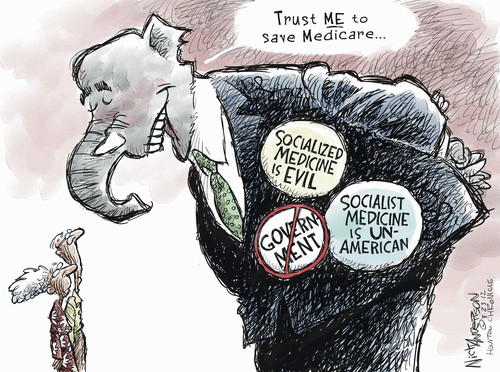 (Nick Anderson via GoComics.com)
In the key Florida market at least, the Republican's long-term scheme to encourage short-term thinking may be working. Dave Weigel on "Paul Ryan's successfully vague campaign to promise "current seniors" the moon":
One of the pure joys of campaign reporting is the "headlines" e-mail. When a candidate has a particularly good day—a killer debate, a speech that goes off with no falling lights or flags—journalists get a missive from the campaign that runs through the bedazzled takes of your peers. The subtext is this: Why haven't you written your story about how fantastic we're doing?

On Saturday, shortly after Rep. Paul Ryan spoke at The Villages in Florida, the Romney campaign sent out no fewer than 14 incredible headlines. "Nothing but Cheers for Paul Ryan's Medicare Plan at The Villages," reported the Tampa Bay Times. (The planned community, where souped-up golf carts dominate the roads, is a Republican stronghold.) "Ryan Campaigns With Mother, Vows To Protect Medicare for Seniors," reported the Hill.

And so on. The point of all this: proving that the first "Medi-scare" battle of the election is ending and that Republicans have fought it to a draw. Ryan got his message down to a zinger, and repeated it all week. "We want this debate," he said. "We need this debate. And we will win this debate."

It just depends what the meaning of "this" is. To keep on winning the Medicare debate, Ryan needs to please three groups of people. They are: conservative voters who are fine with any Medicare scale-back, conservatives who are fine with any Medicare reforms that don't affect them, and swing voters who aren't sure what they want. The campaign has moved on now, and our cable chyrons and Web leads have been given over to Todd Akin. Look back at Week 1, though, and Ryan's done a stellar job pleasing all parties….
Read the whole thing, and think dark thoughts:
… It's solid campaign patter. Ryan alternates between the specific, like when the plans would switch over, and the vague. He'll keep "the promise" of Medicare, which is different than keeping Medicare as it is. He'll keep a "guarantee" of coverage, which is different than keeping it a full-coverage entitlement. I don't see anyone who's already inclined to vote Republican having a problem with this. And those swing voters? They've got to be reading the pretty headlines.