RMoney's energy policy: Drill Baby Drill, allowing states to bypass those pesky Feds when it comes to being bought off by anyone who wants suck dinosaur wine* out of your neighborhood's nice places.
Of course, there is nothing to see here but prudent and thoughtful policy making:
An individual close to the Romney campaign said that Mr. Romney's staff drafted the proposal in consultation with industry executives, including Harold Hamm, an Oklahoma billionaire who is the chairman of the campaign's energy advisory committee and chief executive of Continental Resources, an oil and gas driller.

Just this week, the oil and gas industry gave nearly $10 million toward the Romney election effort in two fund-raisers.
But of course, move along.  Nothing to see here:
The Romney aide, who said she was not authorized to speak on the record about the plan, said that any consultation with industry officials was simply to tap their expertise and did not mean the proposal was being shaped to serve their interests. [Emphasis added.
Translation:  We know what we are.  We're just haggling over price…and in fact 10 million against billions shows that we're pretty damn cheap.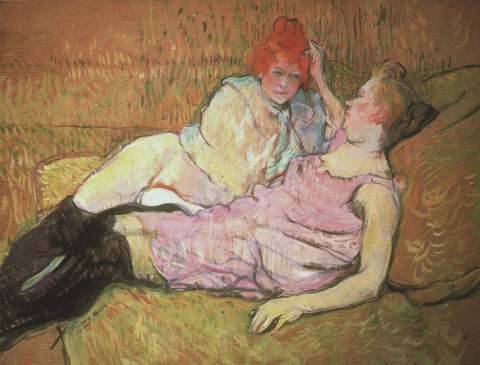 There seems to be literally no limit to how much cash RMoney can spend.  Fortunately he remains Mitt Romney.  Which is why we're in with a chance.
Factio Grandaeva Delenda Est.
*Yes, yes, yes, I know (as I said before in this space) that dinosaurs and fossil fuels have nothing to do with each other.  See Dan Jenkins Semi-Tough for the connection.
Image:  Henri de Toulouse-Lautrec, The Sofa, 1894-1896.