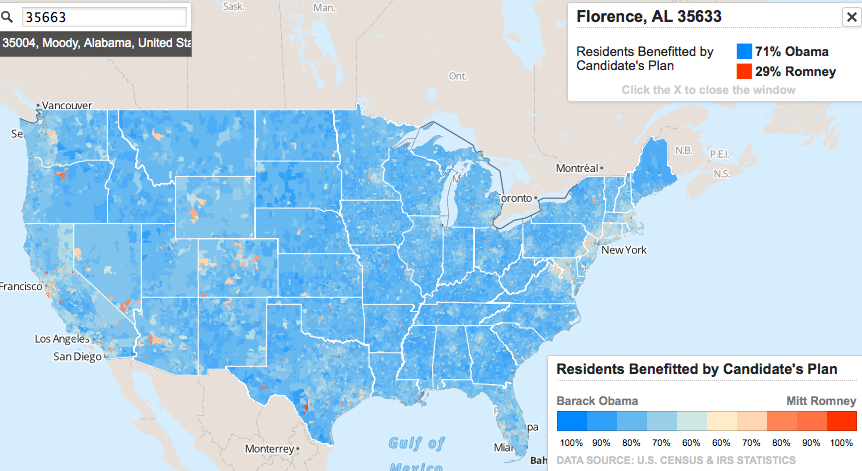 __
According to Paul Constant, at Seattle's Stranger:
Use this site on your lunch break, and make sure to pass it along. Politify is a website that allows you to enter personal information—your income, your ZIP code, your state—and see which presidential candidate's financial plans will work out better for you by 2015. Turns out, rural areas in red states would benefit the most from President Obama's plans, and super-wealthy urban areas (like Mercer Island) would benefit the most from Mitt Romney's plans. None of this is probably new information to you, but the research that went into this site provides the most accurate, granular information you've ever seen…
Constant also links to Ari Melber at the Nation, who reports some detail the site itself doesn't cover:
According to a new analysis of tax and census data, Mitt Romney's economic plan is heavily tilted towards big cities, but tough on the rural areas that comprise the GOP's base. Barack Obama's economic proposals lean the other way, offering little to wealthy urbanites, while delivering broad tax savings to the middle- and lower-class Americans spread across the South and Midwest.

The findings, released Thursday by a start-up called Politify, present a novel way to view the diverging economic promises in this recession election. In a race dominated by the rhetoric of deficits and the 99 percent, Politify says it offers unassailable data and objective answers for voters wondering how the candidates' plans will affect their wallet, their neighborhood, or the whole country.

The most dramatic image—which organizers believe will spread quickly online—provides a geographic model of how the candidates' plans for taxes and benefits will impact individual households. All the data is from the IRS and a US census survey. Nikita Bier, Politify's founder, says this is the most granular model of campaign policy impact ever created. After he first ran the numbers, Bier recalls that he was "shocked" to see just how severely the results favored Obama's plan…
I ran my family's income numbers, and also looked up my zip code. The numbers say we'd do slightly better, personally and locally, under Romney's "plan"… which, of course, means absolutely nothing to my voting calculations, because I don't believe the Republicans have any intention of implementing what they're offering. Which is, of course, the limiting factor in all rational-economics political arguments: I'm sure the Republicans in all those areas that would benefit under President Obama's plans don't believe us Democrats, either.