It's going to be a depressing week of hate coming out of Tampa, but we've had several Days Of Action up here in Ohio, so I'll tell you about those. Days of Action is the official name, by the way.
First, I still feel good about the 4-H rabbit competition.
Here's my pick for best of show, the Dutch: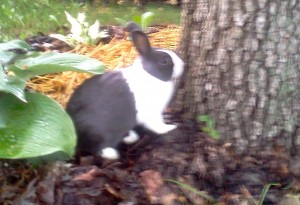 And here's what I see as the only real competition, the Californian: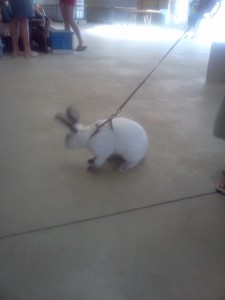 Please. Which rabbit is cuter? There's no contest. I'd like the Dutch to wear a jaunty little straw hat for the big show in September but that's against the rules.
For Ohio Days of Action I went to the big voter protection meeting in Ohio Friday, which was well attended and very informative. What's not to love about a roomful of Lefty lawyers?
Saturday we had a Women for Zimmann event at my house, which was also well attended. I invited 25 and got 15.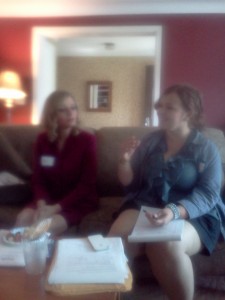 At the Women for Zimmann meeting I learned that Melissa Harris-Perry interviewed Angela on MSNBC that same day, but I missed it because I was scoping out the competition at the pet rabbit trials.
Sunday we canvassed for OFA. I read the various polls this morning and I know they say Obama and Romney are even on Medicare, but that was not what people told me on my canvass. The general demographic on my walk list was white working class, 40's, 50's, 60's, own their own homes. It was Medicare, Medicare, Medicare. People were friendly and eager to discuss "the issues" and many invited me into their air-conditioned homes, which was much appreciated because it was hot as hell Sunday.
Anyway, we have another canvass Thursday, and we're just going to keep on doing what we do despite whatever sly, disgusting attacks come out of the RNC Convention.