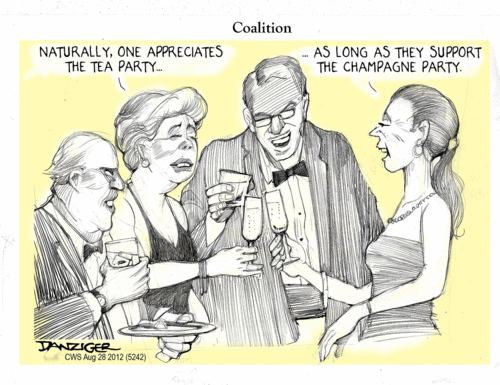 (Jeff Danziger's website)
__
John H. Richardson, at Esquire, points out the scenery at the Tampa convention that you won't see on tv:
The Tea Party is holding its event in Liberty Plaza, which is surrounded now by a twenty-foot fence and black plastic eight feet high so nobody can even see into the lot. First time I came, I didn't have a badge, so they made me walk back to the convention center and apply for admission online, then walk back — except that the massive security fences that surround and divide the entire downtown area force you to walk eight blocks to get across the two blocks to the convention center. In the August humidity and rain. Past many police officers in brown khaki with ominous black devices strapped to their legs. And if you dare to step off the curb while a car is in any portion of the road, the officer barks at you: Sidewalk! On style points, especially an hour after Maine's Ron Paul delegates walk off the RNC floor all in a huff at being stifled by the Romney machine, especially after all the talk about nanny states and the supposedly crippling embrace of the liberal safety-first mentality, they lose the argument on style points alone — this is the most totalitarian celebration of freedom you could imagine. It reminds you, however bad security has been at these things in years past, that Republicans alternate their love of liberty with a love of imprisoning their fellow citizens so passionate it puts our prison system in the company of Iran and Russia…
Marc Ambinder, Glibertarian Ambassador to the Totebaggers, explains today's conventional wisdom for the readers of GQ's Death Race 2012 blog:
There are almost no high-information swing voters; that is, people who pay attention and know about issues tend to make up their minds early. And those who watch the conventions on cable are, by almost all accounts, people who know they're going to vote for, people who enjoy the spectacle, people who get off on the partisan vibes of the cable networks. Legacy network viewers, on the other hand, have a greater chance of paying attention to things other politics. So I watched Romney and Christie on NBC rather than MSNBC or FOX News. At four minutes past the hour, viewers were treated to a grim report from New Orleans, where correspondent Lester Holt updated the progress of Hurricane Isaac while trying to avoid a wind-driven water-boarding.

But then came bright and bubbly, beautiful and ebullient Ann Romney. More than 20 million Americans were hearing her voice for the first time. Ostensibly, Mrs. Romney here to serve as a validator for her husband, to introduce him, to gender him.

Gender distinctions still exist in political rhetoric. Women have different ways of knowing. They have unusual challenges. They keep the men in line. And they (in the world of persuasive political rhetoric aimed at Republican women) still want to know certain things about male presidential candidates. Softly, Republican independent women, white women, were the target audience. Ann Romney provided cues for them to help them buy into the idea of Mitt Romney as a plausible candidate, as a human being, and as a man…

But really, the best reflection of him is her; if women voters think of Ann Romney, then they'll soften their impression of him, which needs burnishing. Nationally, Romney leads Obama among male voters by the margin that Obama leads Romney among female voters. But more women than men vote—10 million more, in 2008….
Alex Pareene, at Salon, is not impressed by the evening's much-anticipated keynote speaker:
Chris Christie accepts the nomination a bit early
… His keynote speech was a lengthy tribute to the greatness of Chris Christie, who is not on the ballot this year. I think the idea is to replicate an Obama in 2004 moment, but that moment depends on the nominee losing.

Chris Christie spent basically no time talking about Mitt Romney, the Republican nominee for president. But I guess Ann had the "Mitt Romney is great" slot. Christie was the "the Republican Party is the inspiring party of big ideas" slot.

"We have become paralyzed by our desire to be loved," said Christie. "Tonight we're gonna choose respect over love." I honestly don't even understand what this riff has to do with this election, though it is pretty clearly an attempt to define the Christie brand….

There wasn't much red meat for the convention audience — no real invocation of the "we built this" bullshit the entire convention is petulantly built around — which just makes it even more obvious that Christie's speech was aimed at the home audience….