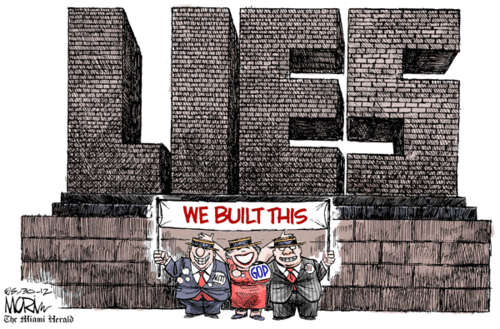 (Jim Morin via GoComics.com)
__
As ever, Mr. Charles P. Pierce gets to the rotten core of the RNC's new blue-eyed boy:
TAMPA, Fla. — I think it was when he went to tears, one dab at each eye, while talking about his mother, that it became extraordinarily clear to me that there's a lot of old Dick Nixon in young Paul Ryan, the zombie-eyed granny-starver from Janesville, Wisconsin. It was always floating around the edges of my perception as I listened to his well-crafted, competently delivered, and virtually substance-free acceptance speech on Wednesday night. There was the crass connection to "the working men and women," like himself. The way his voice drops and his eyes glow when he starts talking about the America in which he grew up, where he flipped burgers and washed floors and dreamed very big dreams. There is the obvious effort to… connect, a gift for a simulacrum of empathy that is just inches away from actual sincerity, but which sells on the screen like someone who truly cares about you, his fellow struggling Americans. But it wasn't until he started tearing up that it all came together for me.

The difference, of course, is that Nixon was deeply, authentically marked by deep and authentic poverty and deprivation. He came by his ultimately self-destructive neuroses honestly. He earned every wound that he imagined the smart people of the world — the Jews, those damn Kennedys — had inflicted on him. He actually worked a job outside of government, and outside the Washington universe of government-dependent think tanks. He once actually had to earn a living. Paul Ryan hasn't lacked for a job since he left college as the golden child of Wisconsin Republican politics, riding his family connections into a job with then-Senator Bob Kasten….

It was a good, solid debut for Ryan, who benefitted tremendously from a hall that had gone rapturous over an earlier speech by Condoleezza Rice, whose career as a studious non-politician came to a definitive end last night. (I say this in all sincerity: The woman has the finest diction of any public speaker I have heard anywhere. She may have been the last college student ever who paid attention in Public Speaking class.) Condi even had the considerable cheek to mention 9/11, the greatest national-security failure a national-security adviser ever had, right off the top. The house loved her, though, and she completely energized what had been a weird, disjointed ragbag of an evening full of speeches that went from an Old-Timer's Game — John McCain, Mike Huckabee — to a speechifying contest among the entire roster of vice-presidential runners-up. John Thune and Rob Portman showed why they didn't get the gig, and Tim Pawlenty told some really bad jokes and did everything but leave his resume on the podium for Willard Romney to pick up later. But it was Rice who put the charge in the place and gave Ryan something on which to build. Which he did, even though his performance was interrupted early on by protestors holding a banner reading, "Vagina: Can't Say It, Don't Legislate It." And shouting, "Health care, not warfare," and "My body, my choice." Frankly, it was about time somebody in the hall mentioned abortion…

More to the point, during the whole time Paul Ryan was on his own path, his own journey, the American journey where he could think for himself, decide for himself, and define happiness for himself, every rough road was made smooth by his reliance on Social Security survivor's benefits that came to his family upon the death of his father. At least Chris Christie had the self-awareness to mention the G.I. Bill on Tuesday night, when he was talking about his father. The assistance that young Paul Ryan got from "the central planners" as he rose from Janesville, through Miami of Ohio, and to a career in which he never has had a job that wasn't inside, or very close to, the national government was not even acknowledged. He knows, in his Randian soul, that he once was a moocher, that in many ways he remains a moocher, and perhaps it galls him just a bit. It eats at him, the way Richard Nixon's childhood poverty was wormwood in his soul. That's where the connection lies. Paul Ryan is the newest new Nixon and, don't kid yourselves: He's a lot better at it than the old one was.
By this point, I'm beginning to suspect that tonight's Big!… Mystery!… Guest! is gonna be Dick Cheney, who will shoot Trump's 'Obama impersonator' in the face, to vast applause from the delegates.