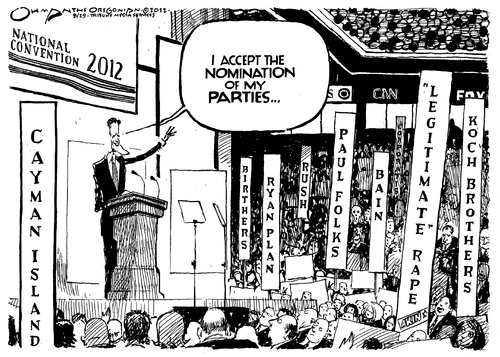 (Jack Ohman via GoComics.com)
__
Tim Dickinson gets the cover for "The Federal Bailout That Saved Mitt Romney":
Mitt Romney likes to say he won't "apologize" for his success in business. But what he never says is "thank you" – to the American people – for the federal bailout of Bain & Company that made so much of his outsize wealth possible.

According to the candidate's mythology, Romney took leave of his duties at the private equity firm Bain Capital in 1990 and rode in on a white horse to lead a swift restructuring of Bain & Company, preventing the collapse of the consulting firm where his career began. When The Boston Globe reported on the rescue at the time of his Senate run against Ted Kennedy, campaign aides spun Romney as the wizard behind a "long-shot miracle," bragging that he had "saved bank depositors all over the country $30 million when he saved Bain & Company."

In fact, government documents on the bailout obtained by Rolling Stone show that the legend crafted by Romney is basically a lie. The federal records, obtained under the Freedom of Information Act, reveal that Romney's initial rescue attempt at Bain & Company was actually a disaster – leaving the firm so financially strapped that it had "no value as a going concern." Even worse, the federal bailout ultimately engineered by Romney screwed the FDIC – the bank insurance system backed by taxpayers – out of at least $10 million. And in an added insult, Romney rewarded top executives at Bain with hefty bonuses at the very moment that he was demanding his handout from the feds….

FDIC documents on the Bain deal – which were heavily redacted by the firm prior to release – show that as a wealthy businessman, Romney was willing to go to extremes to secure a federal bailout to serve his own interests. He had a lot at stake, both financially and politically. Had Bain & Company collapsed, insiders say, it would have dealt a grave setback to Bain Capital, where Romney went on to build a personal fortune valued at as much as $250 million. It would also have short-circuited his political career before it began, tagging Romney as a failed businessman unable to rescue his own firm…

Romney had a direct stake in the survival of Bain & Company: He had been working to build the Bain brand his entire career, and felt he had to save the firm at all costs. After all, Bain sold top-dollar strategic advice to big businesses about how to protect themselves from going bust. If Bain & Company went bankrupt, recalls the Romney deputy, "anyone associated with them would have looked clownish." Indeed, when a banker from Goldman Sachs urged Bain to consider bankruptcy as the obvious solution to the firm's woes, Romney's desperation began to show. He flatly refused to discuss it – and in the ensuing argument, one witness says, Romney almost ended up in a brawl when the Goldman banker advised him to "go fuck yourself." For the sake of Romney's career and fortune, bankruptcy was simply not an option – no matter who got screwed in the process….

Ladies and gentlemen of Amercia — your GOP presidential candidate!