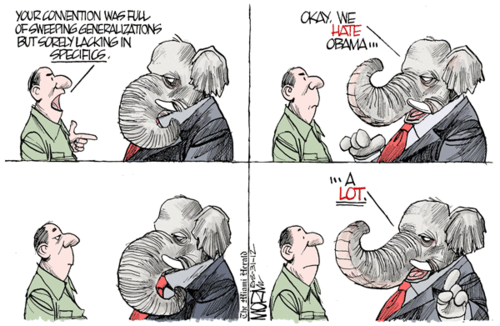 (Jim Morin via GoComics.com)
__
Mr. Pierce wraps it up, and he's not completely happy:
… I have to give the man credit. Romney on Thursday night came as close as he ever has in his political career to being thoroughly human. He worked so damned hard at being empathetic that, even if I didn't buy a word of it, the sweat equity was positively profound. Really, at times, he looked like a guy trying to push a truck up a hill…

I think that, somewhere along the trail, it occurred to him that, really, all he was doing was conducting another sale, and that, if there was one thing he can do, it's that he can sell. And he has learned very well how to sell an indictment of this administration that is not going to be as easy to parry as this president's people seem to think it's going to be…

I was moved by the couple for whose dying son Romney wrote a will. I was moved by the woman whom the Romney's helped through a difficult childbirth. Wasn't there room for one family from Massachusetts who could have come out on the stage and explained how much easier their lives have been since Governor Romney worked with the Democrats in the legislature to pass comprehensive health-care reform? When Healey talked about his gift for compromise and bipartisanship — which were largely illusory, especially when he stopped giving a fk about being governor — couldn't she have spared a mention for the most monumental achievement that gift produced? Couldn't Jane Edmonds have mentioned how hard his cabinet worked to make sure that we would have the system we have today, with 93 percent of the people in Massachusetts, and almost all the children, covered by health insurance?

What do you make of a man who runs away from the good he's done, who won't let the people who most benefitted from his presence in our politics share his finest hour? This is not a mistake Bill Weld would have made, because he is the person Willard Romney is trying to manufacture out of himself. This is the Willard Romney in whom I choose to believe. A man who will bring "backbone" to our dealings with Russia, but who can be talked out of his justifiable pride in his greatest accomplishment because his party has lost its mind on the subject. But that's just me, and I'm one guy, and something of a provincial at that. On Thursday night, Willard Romney may have come as close to humanity as he needs to come. The rest is all just waiting for him out there — 8-percent unemployment, and a Democratic Party that may well spend a week talking about how much they're willing to cut and how serious they are about The Deficit. I felt a pulse on Thursday night, and I saw a certain vigorous color come to his cheeks. I think Romney's alive now, and it bothers me, because I think he's a lot closer to becoming president than he was at the beginning of the night.
***********
Apart for preparing, in spirit, to share next week's Big Democratic Adventure with Cole and Imani, what's on the agenda for the start of the long holiday weekend?