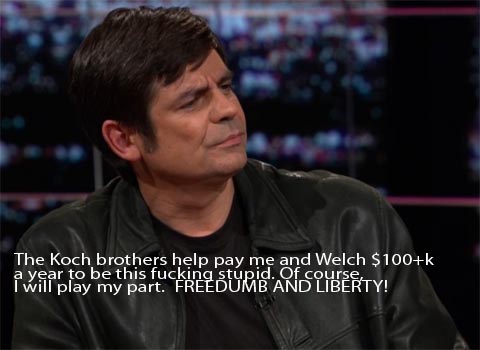 But the family who basically helped start the Bircher movement and kick started the tea party movement with Americans for Prosperity,has spent decades funding Republican groups, and throws token cash at glibertarians (but plenty enough to fund wayfayers and leather jackets), aren't really libertarians. They self-identify as Republicans:
Despite a wave of scrutiny from the press and criticism from liberals up to and including President Barack Obama, Koch said Thursday he plans to continue his big-money political activism regardless of the results of the 2012 election.

"Yeah, we're in this for the long haul, you know?" he told POLITICO when asked if he intended to continue being politically active if Romney loses the 2012 presidential race to Obama.

Koch also said he now considers himself a Republican first and foremost – rather than a Libertarian or a non-partisan supporter of free enterprise – despite a background in Libertarian politics and some views that are out of step with the GOP orthodoxy.

"The Libertarian Party is a great concept. I love the ideals, but it got too far off the deep end, and so I dropped out," Koch said. "I think the Republican Party has a great chance of being successful and that's why I support it," he said, adding "but I believe in the libertarian principles."
No one could have predicted that the libertarian giants in American politics were actually Republicans… Wait, what?
Bonus Reason Magazine hackery:
Paul Ryan must have hit a home run last night – otherwise liberals wouldn't be going bonkers right now. No sooner did he move his tingle-inducing chassis off the stage than the liberal blogosphere erupted in outrage, accusing him of being a maligner and a liar.
Jonah Goldberg, you can now quit your day job.