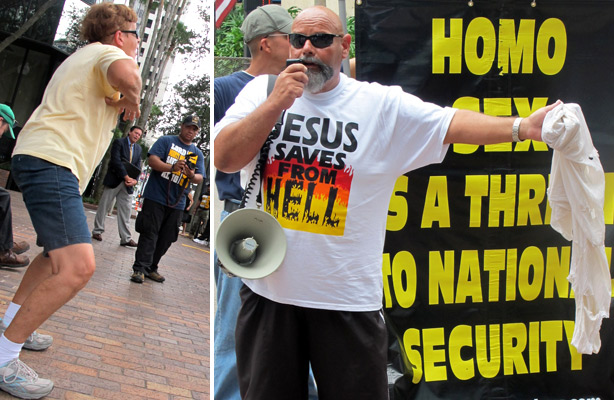 Photographs by Molly Doris-Pierce for The Politics Blog
__
If only Karen "Granny Ass-Shaking Chicken Dance" Granville had given the rebuttal to Clint Eastwood's performance piece last night…
Gotta admit, I'm loving Margaret Doris guest-blogging for Esquire:
… She has long, curly gray hair, a batik shirt, a wrist full of silver and turquoise, and a legitimate ticket to a special RNC showing of Occupy Unmasked. Who'd anticipate she'd be turned away by a guy working a private security detail? "Your name is on our Occupy list," he explained, pointing to the exit.

No need to linger and find out how this little drama was resolved, lest you, too, lose a chance to view the documentary that exposes the Occupy movement, revealing the "sinister, organized, and highly orchestrated nature of its leaders and their number-one goal: not just to change government, but to destroy it." So you clear the bag-check and make your way inside Liberty Plaza, the tented RNC event venue that bears an unfortunate resemblance to a Ringling Brothers retirement home. You clear it so well, in fact, that you're mistakenly ushered into a private party sponsored by the Republican National Lawyers Association. You grab some cookies and a Special Convention Edition of the Republican National Lawyers Association membership directory, and you head toward the movie theater.

But not before another little drama. A young woman, clothed like Miss America on a visit to a children's hospital but with the grim expression of TSA inspector the day the airports reopened after 9/11, stops you and it's not the cookies she's worried about; it's the membership directory. And suddenly it all becomes clear: Miss Truth and the American Way has been instructed to look for any paperwork that might unmask the bearer as a Subversive Political Element bent on mayhem and disruption. The National Lawyers Guild is providing legal support for protesters at both conventions, and the ACLU has distributed a toolkit giving instructions for how to protest legally. Doubtless Miss Motherhood and Apple Pie has been provided with examples of incrementing documents, and she is well-versed in what to look for. But the Republican National Lawyers Association Membership Directory has her stymied. It's legal, sure, but it's also Republican. Miss Support Our Troops picks it up, flips through the pages, turns it upside-down, shakes it, and then reluctantly waves you in….

If you tune out pre-moribund Andrew Breitbart's instance on a vast Occupy conspiracy, and the soundtrack that blends Alfred Hitchcock-like special effects with the actual and annoying beat of the Occupy drums, you find the film a pretty bleak exposé of the pathetic state of the contemporary American Left. It begins with a shot of Community Organizer Obama and, less you miss the point, it gets juxtaposed with a quote from Saul Alinsky. You find this perhaps a little too subtle — nobody mentions that, as far as community-organizing goes, Obama isn't fit to clean Saul Alinsky's workboots. You are then introduced to the mass support behind Occupy: hundreds of young people who were duped into believing they were going to see a free Radiohead concert. And you are introduced to their leaders: Roseanne Barr. Whoopi Goldberg. Whoopi Goldberg and the entire cast of The View. A masked Keith Olbermann, flinging a desk-full of papers at a television camera…
"Not just to change government, but to destroy it" — wasn't that the official RNC party platform? Projection: when it comes to Republicans, there is no other tactic.