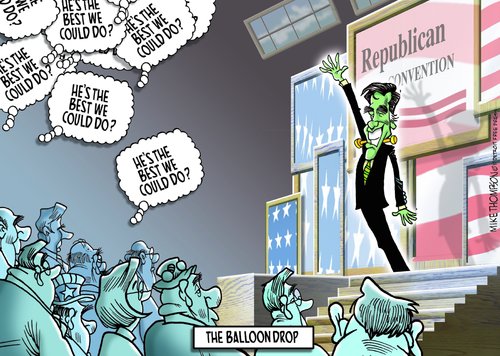 (Mike Thompson via GoComics.com)
__
I know, I know, but it's a long weekend and the post-con stories will be leaking out until Charlotte gets everyone pumped again. Also, The Stranger's Paul Constant is excellent:
The Tampa Bay Times Forum is basically one gigantic roach motel. You can get in, but you can't get out. And once you're inside, there is nothing intuitive about where you should go. One narrow escalator provides service to the whole sixth floor. The elevator banks are small and make strange connections between floors—you can go from the third level to the fifth level on one set of elevators, but you have to walk in circles to find an elevator that will take you the extra flight up to the sixth level, where the print journalists have been stashed, far away from the view of cameras and delegates. Some stairwells end in flat concrete expanses with no doors at all…

There are only a few avenues into and out of the RNC area, and those avenues are flooded with people. Almost entirely white. Mostly older. Mostly male. These delegates to the convention carry pockets full of pins exalting their home state, and a little magpie trading economy has broken out where people trade potato-shaped Idaho buttons for a pin in the shape of North Carolina. Some delegates make it their duty to try to collect every single state button by the end of the convention. Which is good, because it gives them something to do when they're standing in line. Republicans really, really hate standing in line, and conventions provide nothing more than opportunity after opportunity to come together by standing in line.

Lines are tough when they're full of self-entitled people who believe they and they alone should have the right to get ahead. I overhear several graying men grumble to their soothing wives that walking to their car has been a nightmare, they've had to walk a dozen blocks, and they're going to make DAMN sure, they're going to do EVERYTHING in their POWER, to ensure that Tampa never hosts another convention again. One Southern man on my left makes it a point to look every National Guardsman in the eyes and thank them for their service to the country. Impatient people grunt and sigh and cut around him; he's between them and their after-party. A young man is telling his wife that he thought the speakers should have mentioned Hurricane Isaac more, to defuse the media's inevitable comments. "Only like one person was killed" by Isaac, she whispered back. "Big deal." His eyes search the crowd guiltily, trying to see if anyone heard her say that. Then he chuckles…

…[T]he messaging sounded inoffensive, but when you really think about what is being said at this convention, you realize that all the red, white, and blue bunting and clothing and video imagery is a put-on. All the talk about patriotism, about supporting the troops, is just lip service. This is the most unpatriotic crowd I have ever been a part of. What they are against is community. Every sentence is devoid of empathy. Every finger-wag is aimed directly at an American who can't afford health insurance, who hasn't had a raise on their minimum-wage job in four years. Even as they rail against a statement that the president never really made, they are talking about tearing America down and leaving something meaner and greedier in its place. They're radicals—radicals who've gone over the edge and are trying to make their radicalism mainstream.

But is that really true? Are they the monsters I think they are when the lights are down and the demagogues are predictably spreading their demagoguery? They roar like monsters in the darkened halls of the Forum, but I look at the people around me, milling forward in the embrace of waist-high concrete barriers to their left and right, trying to get back to their cars, or their buses, or their hotels. They're grumbling about the blisters caused by their good pair of shoes. They're hungry. They're tired. But they are unmistakably human beings. That bald man whose wattle hangs down over his shirt like a meaty necktie, that woman whose perm looks as arid and dry as a tumbleweed. These are peoples' grandparents. Real human beings will weep when they die (and for most of this ancient crowd, the day that they die will probably be sometime soon). They're scared of the imaginary world of the 1950s in their heads dying forever, and the problem is that scared people make dumb choices….
And one more entry for the "Great All-Time Post Title": Tom Scocca's The Assassination of Clint Eastwood by the Coward Mitt Romney
***********
Apart from bidding fare-not-well to the RNC's hopes and dreams, what's on the agenda for the day?