I forgot to mention this little bit of joy yesterday. In a moment of brilliance (actually my mom suggested it), I decided to rent a car since there is no AC in the family truckster and I should probably get something with more room for luggage since I had ladies on the road. As it turns out, I have the biggest suitcase, and it doesn't even have any damned pants in it.
At any rate, I called the Avis at the airport, rented a town car for the week, because the price was only about 30 bucks more than a midsized, plus, IT'S A FUCKING TOWN CAR! In my planning zeal, I forgot one thing- airport rental outfits don't have a place to park your own jalopy, because everyone who rents from an airport has… just gotten off a plane.
I figured that out after driving around the airport for 20 minutes trying to find AVIS, then being told by a helpful and laughing cabbie that "Umm, the rental car outfits are in the terminal." Reasonably sure from his tone that there was an implied "YOU MORON" at the end. It then dawned on me that I would have to find a space in extended parking, which was problematic, because prior to heading to the airport I went shopping and picked up a case of green tea, a case of water, a bunch of lunchmeat and stuff for the trip down, a case of wine, a handle of rum, and a handle of vodka. How the hell am I going to carry all that three miles from extended parking to the rental place.
I then realized that I was going to have to rent the car, then pay for a day's worth of parking, drive to where I had parked the Subaru, load everything, and then leave. Now, this being labor day week-end, the only space in the Pittsburgh airport lot was about 3 miles from Cleveland. I drove around for 20 minutes until I finally found a space, then waited, no kidding, 25 minutes for the shuttle. At this point, I was 20 minutes late picking up Heather.
Finally made it to AVIS, and surprise surprise, despite the fact that I had called Friday night and reconfirmed that my car would be there 12 hours later, there was no town car. The next closest thing was a Crown Vic, and at this point, beaten down by life, I just blurted out "Does it have AC and Bakes? Yes? I'll take it."
We fill out the paperwork, I go out to the lot where the Crown Vic is parked, got in, and guess what? The seat was broken. Wouldn't move and it felt like I was sitting on the horn of a saddle. Walked back in to the counter, told the guy the seat was broken, and he just laughed and told me last week the maintenance guys had parked a minivan there with no back seat, much to the surprise of the family of seven who had rented it.
Long story short, I finally told him, look- just give me the best damned car you have and cut me a break for all the bs I've gone through. He gave me a 2012 Ford Explorer with 7k miles, charged me for a mid-sized, and I have to admit it was a pretty nice ride. I especially liked I could blast the ac at 64 on my side and keep it at 70ish for the ladies.
At any rate, this is why I hate traveling. No matter how much you plan, everything always goes to shit one way or another.
I'm off to bed. Have to rest up so I can go be hot and miserable all day tomorrow in 90 degree heat, 100% humidity, and intermittent thunderstorms.
*** Update ***
Classic: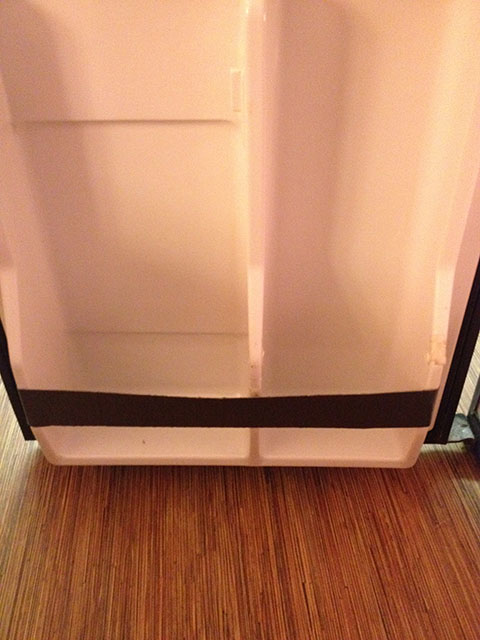 Why yes, that is a duct tape shelf repair job to my room refrigerator.