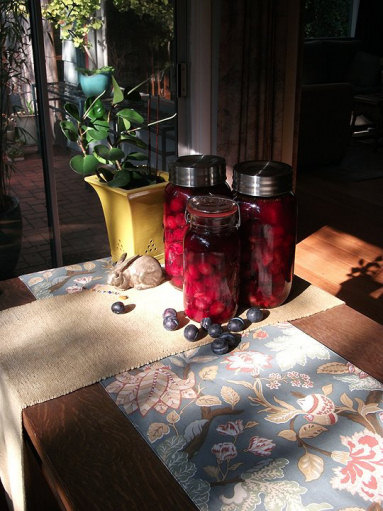 __
In celebration of the ABL/CWG2012 DNC Road Trip, from faithful commentor Marvel:
May the harvest be upon you! It sure is harvest-y here in the Pacific Northwest!

We make a lovely liquor out of these tart, blue plums.

I like how the liquid (which starts out looking like sea critters submerged in weak coffee) turns a beautiful ruby color.

Plum Cordial-In-Waiting — Ingredients (in descending order) damson plums, vodka, sugar, brandy, water, whole cloves, whole allspice, star anise. Store in a cool dark spot for 3-4 months. Decant into festive vessels. Drink up.

[These snapshots are from last year (9/5/11) …we'll be trudging out with ladder & pails and starting the process all over again tomorrow — sending these 2011 photos 'cuz I'm up to my ears canning beans (etc.) today and it promises to get plenty non-stop busy hereabouts.]
***********
As the official harvest season kicks off, what's happening in your gardens this week?