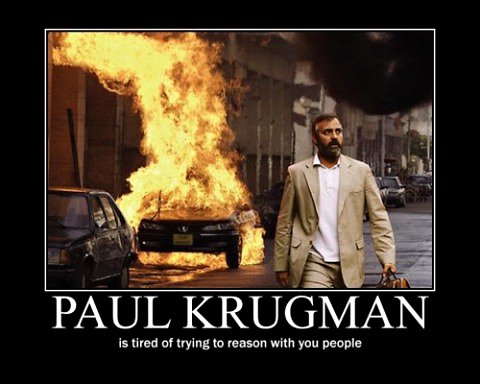 (D.B. Echo at Another Monkey)
__
Professor Krugman is tired of listening to high-level Republicans lie:
… Obviously nobody cares how fast Mr. Ryan can run, and even his strange marathon misstatement wouldn't be worth talking about in isolation. What makes this incident so striking is, instead, the way it resonates with the essential Rosie-Ruizness of Mr. Ryan's whole political persona, which is built around big boasts about accomplishments he hasn't accomplished.

For Mr. Ryan, as you may recall, has positioned himself as an icon of truth-telling and fiscal responsibility, while offering policy proposals that are neither honest nor responsible. He calls for huge tax cuts, while proposing specific spending cuts that, while inflicting immense hardship on our most vulnerable citizens, would fall far short of making up for the revenue loss. His claims to reduce the deficit therefore rely on assertions that he would make up for the lost revenue by closing loopholes that he refuses to specify, and achieve further huge spending cuts in ways that he also refuses to specify…

Still, Mitt Romney, not Mr. Ryan, is the presidential candidate, although that's sometimes hard to remember. So how does Romney/Ryan differ from Ryan alone? It's worse. Like the Ryan plan, the Romney plan offers huge tax breaks to corporations and the wealthy, while pledging to offset these cuts by closing unspecified loopholes; but Mr. Romney adds to the implausibility by also demanding higher defense spending and eliminating the Medicare cost savings contained in Obamacare. Realistically, the Romney plan would explode the deficit, not reduce it…

So what is this election about? To be sure, it's about different visions of society — about Medicare versus Vouchercare, about preserving the safety net versus destroying it. But it's also a test of how far politicians can bend the truth. This is surely the first time one of our major parties has run a campaign so completely fraudulent, making claims so at odds with the reality of its policy proposals. But if the Romney/Ryan ticket wins, it won't be the last.
He's not too crazy about the Rosie Ruiz Republicans' Media Village enablers, either:
Everybody Does It
That seems to be the new Beltway line, now that the shock over the lie-fest in Tampa has died down a bit. At the Washington Post (except at Ezra's blog), at Politico, and so on, it's excuse time — sure, Ryan and Romney told a few whoppers, but isn't that just how politics is?

It's not hard to understand why this is happening. For one thing, there's the views-differ-on-shape-of-planet ethos that has imbued political journalism for many years now. On top of that, a lot of people in DC have major reputational capital at stake. After all the puff pieces on Paul Ryan, after all the op-eds praising his truthfulness and responsibility, after not one, not two, but three Pete Peterson-backed deficit-hawk organizations gave Ryan an award for fiscal responsibility, admitting that he's actually a big low-body-fat liar would be extremely painful…

This is something new in American politics, and everyone trying to deny that fact is in effect an enabler.
I had not heard, incidentally, that the infamous Hugh Hewitt, John 'Hindrocket' Hindracker's Powerline partner, was the man who first deep-throated Ryan's sub-three-hour marathon lie. It must be very strange to be Professor Krugman, a man of extraordinary vision and brilliance approaching to genius, doggedly reporting the truth about "pink slime economics". A man ahead of his time, and who unveils one masterpiece after another to a reception that, when not bored, is hostile: self-interested political grifters and MBA-bearing morons fulminating about balance and harsh choices and broken calculators…
***********
Apart from waiting for further dispatches from Angry/Crank2012 at the Charlotte convention, what's on the agenda for The All-American Holiday That Is Entirely Different from Commie-Socialistic May Day?