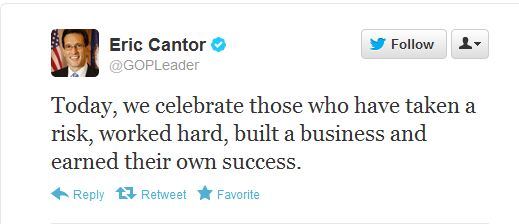 Can you imagine– can you imagine— if a leading Democrat deliberately dissed the intended honorees of, say, Memorial Day? Can you imagine how the mainstream media would report on it?
Eric Cantor, it almost goes without saying, has never worked a day in his life. A career politician, as so many haters of government are, his only work in the private sector was spent in the family business that he was lucky enough to be born into. It takes a special kind of shamelessness to mock workers with talk of "earning your own success" when working for your Daddy's business is the closest you've ever come to honest labor. What a childish, classless display.
Tonight I drink for everyone who ever worked and suffered for it, the people who built the country that Cantor and his party exploit. The dignity of our working people is beyond the cheap insults of the Eric Cantors of the world.