First things first: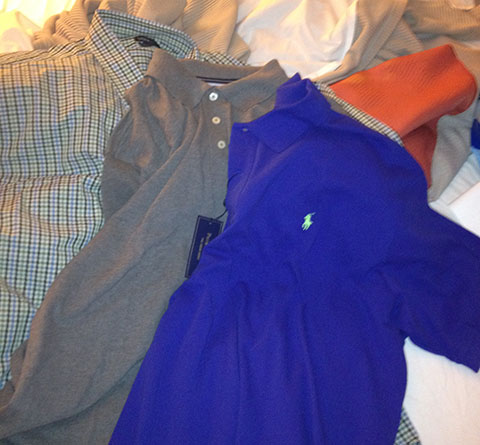 1.) The things I do for you people. I took time out of my busy day and drove to the damned mall and bought some solid colored shirts so you all would STFU and leave my clothing alone. I also picked up some pants, got a hair cut and a massage.
I don't know how the rest of you single middle-aged guys shop, but I have an annual routine in the spring. I go to the Highlands in Triadelphia, go to Cabelas, walk in, and say "Where are your clothes for fat men?" I then go buy several pairs of cargo shorts. I leave, walk to Target, and I buy several packs of ankle socks and boxer shorts. I walk next door to JCP, buy a couple shirts. And like that, I am done shopping until it starts to snow.
I really do not care about clothes. In fact, I am trying to think of things I am less interested in than clothing. Gay porn. Diet tips from Chris Christie. That's about it. But, in order to bring peace and harmony to the blog comments and to avoid one of you maniacs driving to my house and having a clothing intervention, I went out and bought some new stuff so you would leave me alone.
2.) The OFA blogger briefing was great. The wonderful and spectacular Erica Sackin from OFA (who guided me through the process of getting credentials this late in the game was there) and Brent Colburn, the Communications Director for the campaign, were both there, and they outlined their strategy for the convention. Basically, the main theme of the discussion was to highlight the differences between the two campaigns. Team Romney tried to reinvent Romney while tearing down Obama, while the Obama campaign intends to have a more positive and forward looking message. There was a lot more said than that, including how many more bloggers there are here and how much more organized the blogger outreach is than in 2008, and how they also use the convention as a networking option to coordinate volunteers for the ground game. It was informative, and there will be another one tomorrow. The bonus was meeting Roxanne Cooper from the Raw Story, and hopefully we will hook up and have lunch/dinner/drinks before this shindig is over.
3.) This Week in Blackness was really good, and I hope you all check it out at some time.
4.) ABL is currently running around with L. Joy from TWIB, and I have been asked (ORDERED) to bring a phone charger back to the convention center, and we will be hooking up for drinks and then going to go see the speakers. I'm totally stoked to see FLOTUS, and, as I mentioned earlier, even got my hair cut so this hillbilly would look respectable in her presence.
5.) My credentials give me really good access to the site, and basically I am allowed everywhere but the floor. I doubt I will be blogging during the actual event, but I will be tweeting pictures and have a write-up either tonight or tomorrow. Don't forget that you can stream the entire convention, and really get a lot more access that way to all the speakers than you can through the traditional media. You can find the stream here, but I will also embed it so you can watch here if you so choose:
6.) Now that I think about it, the write-up will probably be tomorrow, because we are going to a Wonkette house party. Going to try to get ABL to do some keg stands.