I'm here in Charlotte with L. Joy Williams and a very not amused Elon James White. We'll be doing a livestream broadcast of TWiB (This Week in Blackness) at 11 a.m. EST today. (I am filling in for Aaron Rand Freeman who couldn't be here this week.)
You can check it out at www.theppl.us/dnc2012, or, if you are in Charlotte, come to The Stage at The PPL (222 S. Church St.) on the fourth floor.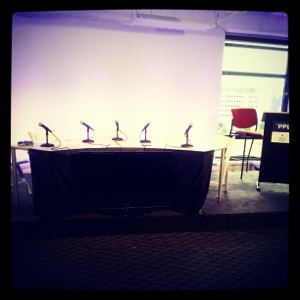 You can follow L. Joy on Twitter at @ljoywilliams and Elon at @elonjames and Aaron (who unfortunately isn't here) at @ANSFreeman. And you can follow me at @AngryBlackLady.
***photo credit/L. Joy Williams.