Any honest political observer knows that Clinton's speech was a tour-de-force, and it also makes the Romney campaign's attempt to buddy up to Clinton look like the stupid strategy that it was. So let's see what the hacks at the Post's opinion page have to say, since it's a pretty good synopsis of how Republicans and/or the DC press are reacting: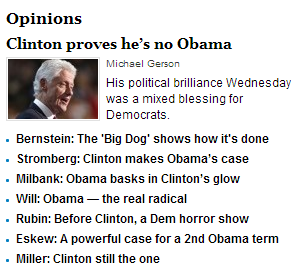 That Jennifer Rubin headline gave me my morning chuckle, because even a half-bright Romney venerator like her realizes that Clinton gave a good speech, so she goes with the "highlight of the shitshow" spin. Well played. Gerson proves that he's the prince of dullness by pushing the Romney boilerplate that Clinton was one of the good ones and Obama isn't, even though Clinton spent half his speech refuting that tired pantsload. And of course, Milbank can only have one king, so he's very concerned that Clinton overshadowed Obama.
But, as usual, the woman DougJ has named the post-punk David Broder, Alexandra Petri, is the highlight of the paper with her irony-impaired emission, a long complaint about the length of the speech:
It was too big to fail. It was almost too big to check. It would be like fact checking a century. At dawn tomorrow, I am going to see the factcheckers off on their long voyage into miles and miles of wild, verdant speech. I expect them to write me every month to offer an update on their progress. Perhaps they will return by 2016 with a report.

Then again I only dimly recollect the Clinton era. To me, it was a time of Pokemon and prosperity during which your fifth-grade teacher had to awkwardly explain specific sex acts. But everyone who was there in '88 assures me that his speech then was easily as long, if not longer.
Translation: Even though I am so very, very young, and therefore must portray myself as having the attention span of a housefly to appease the geriatric Post readership, I'm still not smart enough to use Google to find Clinton's 88 speech. Also, too: Clenis.