In addition to trying to read more right-wing stuff, I've decided to start reading more Marxist stuff. I want something to the left of me, but I gave up on the firebagger blogs, because they lack ideological consistency, they're mostly about trashing Obama and Obots, whereas, say what you will about the tenets of Marxism-Leninism, dude…
Some of them are really funny (via):
Look at that picture: transpose the young Stalin to any contemporary hipster bar and he would be outclassing the other hipsters with his hip good looks. Only he would also be holding up trains and robbing banks for the revolution, which would make him cooler than that guy who is trying to pick you up (and only wishes he was as hot and hip as young Stalin) with his knowledge of a bunch of obscure indie bands. Or maybe if young Stalin was alive today, he would seduce you with his indie band knowledge one night, and rob a bank for the revolution the next night––he just looks like that kind of hipster, doesn't he?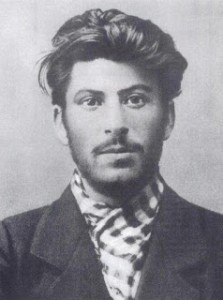 I'm guessing not everyone will find this amusing at all, so have an open thread too if you want.